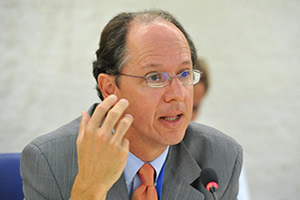 Pablo_de_Greiff
01.10.2015.
Guarantees of Non-Recurrence Report
UN Special Rapporteur calls for more attention to the education, culture and archives as a part of Non-Recurrence states policy
Pablo de Greiff, United Nations Special Rapporteur for on the promotion of truth, justice, reparation and guarantees of non-recurrence, presented his newest report at the Human Rights Council thirtieth session on September 15 2015. This year Special Rapporteur report is devoted to the "guarantees of non-recurrence".
"Guarantees of non-recurrence is the explicitly forward-looking face of redress for mass violations and implies a preventive function in its very nature. Prevention is not merely a question of rhetoric. It is crucial to think about 'guarantees of non-recurrence' as an object of concrete and deliberate policy-making that can be planned, budgeted, implemented and monitored and not simply as a rhetorical device or an aspiration. Hence, I dedicate my thematic report to offering a clarification of the concept of guarantees of non recurrence, and a framework with main elements of an actionable non-recurrence policy (A/HRC/30/42). This has been missing so far in most transitional justice debates" – Rapporteur de Greiff said before the Human Rights Council.
Rapporteur gave recommendations for designing State policies regarding "guarantees of non-recurrence". However, he called for special attention to two spheres of intervention – "the potential of which has not been frequently examined as part of guarantees of non-recurrence" – intervention of civil society and activities in the spheres of culture, and personal dispositions. He called for an enabling environment in order for civil society to discharge its crucial role.
Finally, the Special Rapporteur emphasizes the preventive potential of education reform, arts and culture, and trauma counselling. "Institutional reforms and an empowered civil society do not amount to the sort of social transformation that guarantees non-recurrence. One more piece is missing, namely, interventions at the individual and cultural levels. I am calling at Member States and other actors to devote more attention to interventions at the level of the cultural sphere and individual dispositions. Educational reforms, cultural interventions, including memorialization, and archives should form a living part of any State's non-recurrence policy. Such initiatives should aim at fostering analytic thinking and critical debate as well as a better understanding of the contemporary challenges of exclusion, violence and repression. In this context, contribution of well-preserved, protected and accessible archives can be important", Rapporteur said before the Human Rights Council.
The "guarantees of non-recurrence" report contains the annex presented to the Council for the consideration: the Set of General Recommendations on Archives, which are result of a year-long process of consultations and expert deliberations.
The "guarantees of non-recurrence" report
Statement before the Human Rights Council 2015
Annex-Set of general recommendations for truth commissions and archives