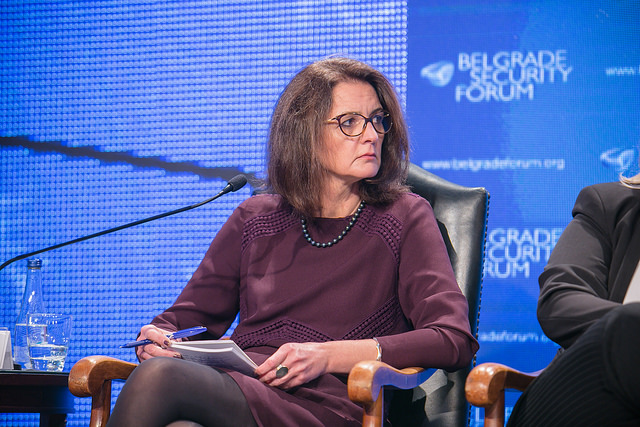 Speaking at the Belgrade Security Forum 2018, Denisa Kostovicova, an Associate Professor in Global Politics at the London School of Economics and Political Science, emphasised again the importance of the RECOM Initiative.
"RECOM Initiative offers an applicable model of additional approaches in establishing the facts about past crimes and in bringing people together. It is valuable for the Western Balkans region, but also for conflicts worldwide", Kostovicova said.
"We have a lot of data from RECOM. Analysing it, we tried to find out whether this regional approach had an impact on civil societies, and it turns out that yes – when civil rights organisations from the region come together, they talk more of peace and reconciliations than when they are on their own", Kostovicova also said.
In her closing remarks, she added "We need to stop thinking of reconciliation as a result and start thing of it as a process."
The topic of the panel, which was organised in partnership with King's College London (KCL), War Studies Department, was Prospects for Justice and Reconciliation in Balkans.
Speaking at the same panel, Iva Vukušić, a visiting research fellow at KCL said that reconciliation cannot be expected of the courts – it is not their role to reconcile. "Reconcitiation has to come from us, from our civil societies, and from our politicians", Vukušić concluded.