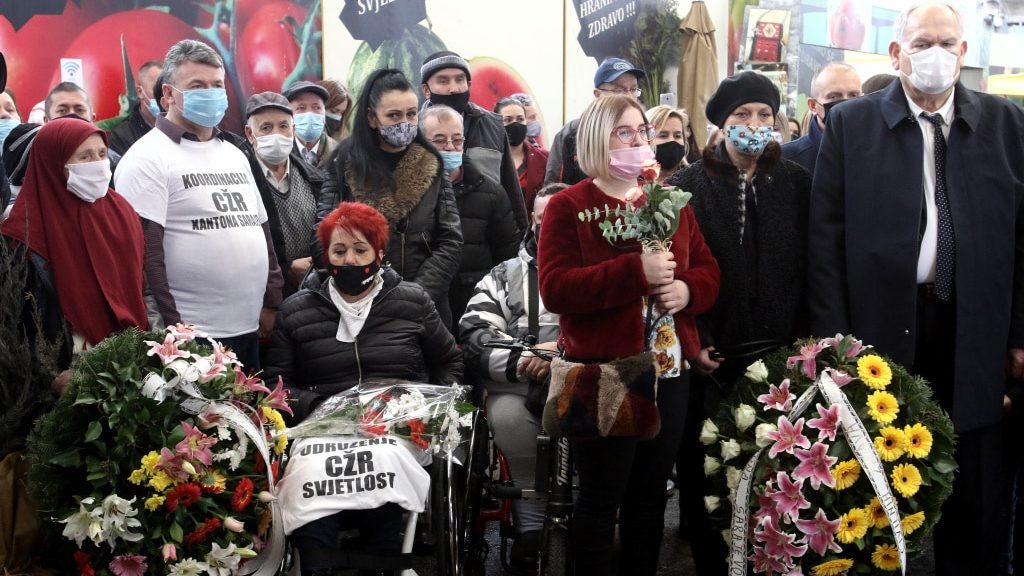 The commemoration on Friday. Photo: BIRN.
06.02.2021.
Bosnians Mourn Victims of 1994 Sarajevo Market Massacre
Markale, Sarajevo
Flowers were laid to commemorate the victims of the shelling of the Markale marketplace in the Bosnian capital in February 1994, when 68 people were killed and 142 injured.
Families of the dead, survivors of the shelling, Bosnian politicians and representatives of war victims' associations laid wreaths on Friday at the site of the massacre at the Markale marketplace to mark its 27th anniversary.
"I must do this, I am obliged to do it, because this cannot be forgotten," said one of the mourners, Vahida Tvico, who witnessed the massacre on February 5, 1994.
Tvico hid under some market stalls and managed to survive the blast, in which 68 people were killed and 142 others injured.
Court verdicts have established that the shell was fired from Bosnian Serb Army positions.
Forty-three more people were killed and 84 injured in a second attack on the Markale market by Bosnian Serb forces in August 1995.
The wartime commander of the Bosnian Serb Army's Sarajevo-Romanija Corps, Stanislav Galic, was jailed for life by the Hague Tribunal for terrorising the population of Sarajevo during the siege of the city. His successor as commander of the Sarajevo-Romanija Corps, Dragomir Milosevic, was jailed for 29 years.
Former Bosnian Serb political leader Radovan Karadzic was also convicted of terrorising the population of Sarajevo through a long-running campaign of shelling and sniper fire during the siege. Karadzic was jailed for life for these and other crimes.
Former Bosnian Serb military chief Ratko Mladic was convicted of the same charge. He is currently appealing and the final verdict is due in May this year.
Nejra Džaferagić
---
This article was was originally published on balkaninsight.com.