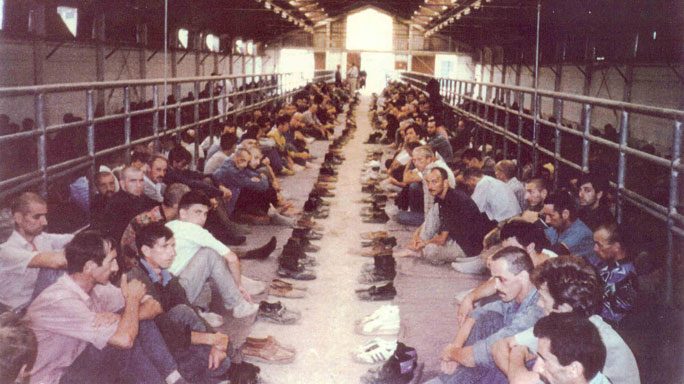 The Manjaca detention camp. Photo: Flickr/UN International Criminal Tribunal for the Former Yugoslavia.
New research documents more than 600 detention camps, prisons or other jail facilities that operated during the 1992-95 war in Bosnia and Herzegovina – many more than have been documented by court verdicts.
Research published on Thursday by two Bosnian NGOs documents over 600 sites where people were detained during the Bosnian war – more than have been previously counted.
Researchers from the NGOs, Transitional Justice, Responsibility and Memory in Bosnia and Herzegovina and the Centre for Democracy and Transitional Justice, carried out field research and took statements from war survivors and former camp inmates to identify the detention sites and establish who was held there and in what kind of conditions.
Presenting the research at an online conference, Natasa Kandic, the coordinator of RECOM, a network of NGOs that wants to establish a post-war truth and reconciliation commission for the former Yugoslavia, said that there might have been hundreds more detention centre operating during the 1990s conflict.
"More than 50 sources we consulted generally agree that there were about 1,500 camps, prisons or other detention facilities during the war in Bosnia and Herzegovina," Kandic said.
She said some 300 to 350 of these sites have been the subject of cases at the International Criminal Tribunal for the Former Yugoslavia, ICTY in The Hague.
Representatives of the NGOs explained the circumstances in which the camps were set up in several areas of the country, and whose forces were responsible.
Mirna Alibegovic said that detentions in Brcko started on May 3, 1992 after an attack by Bosnian Serb forces. The biggest detention centre was Luka, where Bosniaks and Croats were held, with some 3,000 civilians being held there at various times during its existence from May 7 to July 9, 1992.
Alibegovic said that detention camps for Serbs were then established after September 14 ,1992 when the joint forces of the Bosniak-led Bosnian Army and the Croatian Defence Council, the Bosnian Croat wartime force, attacked 19 Serb-populated villages around Brcko.
"The judgments of courts in Bosnia and Herzegovina established the existence of 11 such facilities, while the research we conducted established the existence of an additional 13," she said.
Benjamin Sabljica said that in the Mostar area, according to ICTY and domestic verdicts, there were 15 detention camps – eight controlled by the Croatian Defence Council, five controlled by the Bosnian Army and two controlled by the Yugoslav People's Army, JNA.
But the NGOs' research again suggested that this was an underestimate.
"The research we conducted led to the conclusion that there were nine more [detention] facilities," Sabljica said.
The biggest was Heliodrom, part of a former JNA facility, set up on September 3, 1992, mostly to hold Bosniaks and later to hold Croatian Defence Council fighters and Serb civilians.
"The highest number of detainees recorded at this facility was 6,000," Sabljica said.
Zlatica Gruhonjic explained that in the Konjic municipality, detention facilities began to be set up in April and May 1992 when Croat and Bosniak forces jointly disarmed people from mostly Serb-populated villages around Konjic. However the situation changed as relations between Croat, Bosniak and Serb forces in the area shifted.
Court verdicts have established that there were three camps in the Konjic area holding Serbs and one facility holding Croatian Defence Council fighters, but the NGOs' research found more.
"Research by our team so far has shown that… as far as detention facilities for Serbs are concerned, there were six more facilities, 19 detention facilities for Croats and six facilities in which Muslims [Bosniaks] were detained," Gruhonjic said.
Conditions were inhumane in the vast majority of detention facilities. Inmates were held in cramped spaces, not given enough water or food, and were physically abused. Many of them were taken to be used as human shields on the frontlines or as forced labour.
Milica Stojanović
---
This article was was originally published on balkaninsight.com.