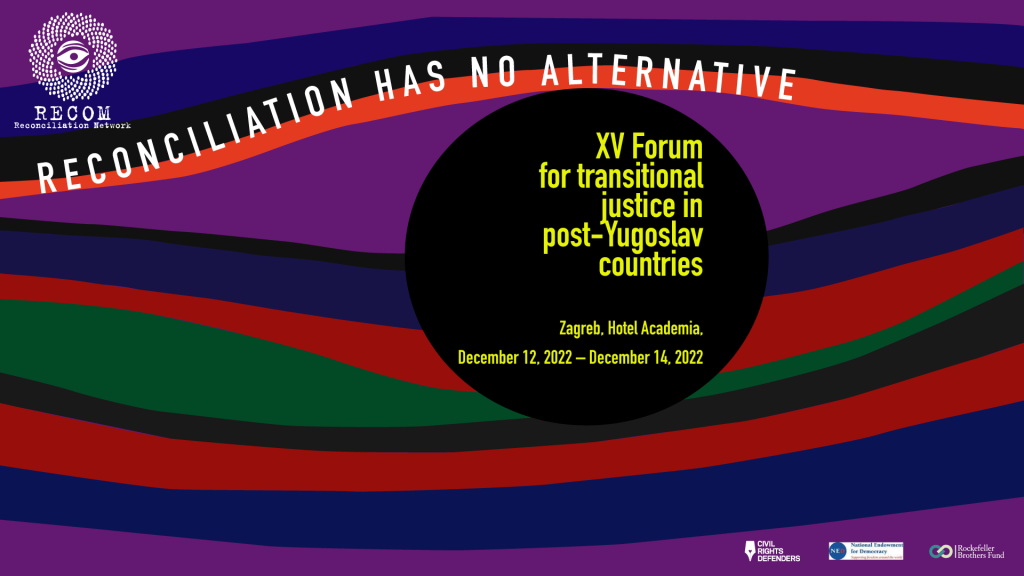 RECOM Reconciliation Network organizes XV Forum for transitional justice in post-Yugoslav countries. The Forum programme will be available online, via the ZOOM platform, by registering on LINK.
RECONCILIATION HAS NO ALTERNATIVE
Zagreb, Hotel Academia, December 12, 2022 – December 14, 2022
Monday, December 12
14:00                           Arrival and accommodation
19:00                           The voice of the victim – testimonies before the ICTY (video)
20:00                           Joint dinner
Tuesday, December 13
9:00 – 9:20                 Opening words
Vesna Teršelič, Nataša Kandić
9:20 – 11:00                The wartime nineties from the youth perspective
Panelists:
dr.sc. Anja Gvozdanović, Institute for Social Research Zagreb
Sofija Todorović, The Youth Initiative for Human Rights Serbia
Samir Beharić, member of the Transatlantic Inclusion Leaders Network (TILN) of the German Marshall Fund
Marigona Shabiu, The Youth Initiative for Human Rights Kosovo
Moderator: Branka Vierda, The Youth Initiative for Human Rights Croatia
11:00 – 11:30              Break
11:30 – 13:00              Criminal justice – prosecution of war crimes
Panelists:
Drita Hajdari, Prosecutor, Special Prosecutor's Office of Kosovo, Head od War Crimes Department
Jasmina Dolmagić, Deputy Chief State Attorney, State Attorney Office of Croatia
Nedžad Smailagić, expert advisor for monitoring court proceedings, Rule of Law Department of the OSCE Mission to Bosnia and Herzegovina
Sead Spahović, Attorney, Serbia
Klaudio Čurin, Attorney, Croatia
Moderator: Tea Gorjanc Prelević,  Human Rights Action, Montenegro
13:00 – 14:30              Lunch
14:30 – 16:00              A strong artistic perspective in building a common remembrance culture
Panelists:
Olja Savičević Ivančević, writer and poet, Croatia
Ognjen Glavonić, film director, Serbia
Ognjen Spahić, writer, Montenegro
Adela Jušić, visual artist, Bosnia and Herzegovina
Moderator: Prof. Milena Dragičević Šešić, Ph.D., Faculty of Dramatic Arts in Belgrade
16:30 – 17:00              Break
17:00 – 18:30              Remembering the suffering of others and the different: how to create a common remembrance culture?
Panelists:
Prof. Siniša Malešević, Ph.D., University College, Dublin
Prof. Nerzuk Ćurak, Ph.D., Faculty of Political Sciences, University of Sarajevo
Mišo Kapetanović, Ph.D., Institute for Habsburg and Balkan Studies
Austrian Academy of Sciences
Rok Zupančič, Ph.D., Faculty of Social Sciences, University of Ljubljana
Naum Trajanovski, Assistant at the Faculty of Sociology, University of Warsaw
Moderator: Prof. Mila Dragojević, Ph.D., The Univresity of the South, USA
Wednesday, December 14
9:00 – 10:45               Processes of reconciliation and (un)successful political practices
Panelists:
Vildana Selimbegović, chief editor of the daily newspaper Oslobođenje, Bosnia and Herzegovina
Boško Jakšić, journalist, Serbia
Veton Surroi, publicist, Kosovo
Marko Jelić, Ph.D., prefect of the Šibenik-Knin County
Moderator: Borna Sor, journalist, Croatia
10:45 – 11:00              Final remarks
Nataša Kandić, Vesna Teršelič