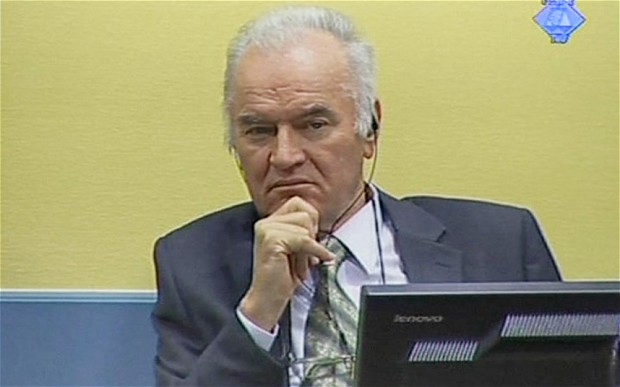 ratko-mladic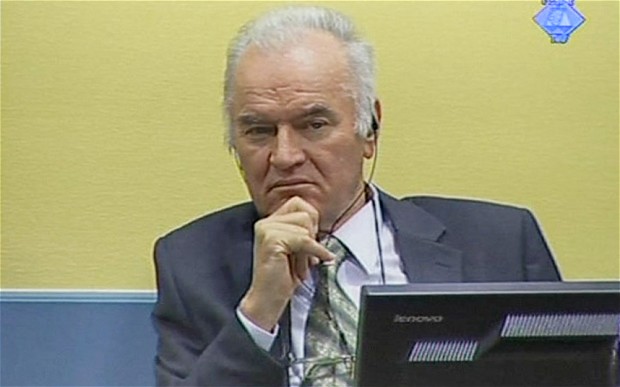 In the first day of closing arguments in Ratko Mladic's trial, prosecutors said the former Bosnian Serb military commander played a crucial role in a brutal plan to 'cleanse' areas of Bosnia of non-Serbs.
Prosecutors began their closing arguments in the trial of Ratko Mladic on Monday at the International Criminal Tribunal for the Former Yugoslavia, insisting that the former Bosnian Serb Army chief enjoyed strong command over forces that carried out genocide during the 1992-95 war.
While Mladic's lawyers have claimed he was a relatively marginal player and not always in control as Bosnian Serb forces pursued an ethnic cleansing campaign across swathes of Bosnia, prosecutor Alan Tieger said this was "preposterous" and that evidence showed "the absurdity of casting [Mladic] as a secondary figure".
Refuting defence claims that Mladic was a protector of Bosnian Muslims, Tieger showed a video clip of him at a meeting with other generals in which Tieger said his "domineering presence" could be felt as he issues a threat to Bosniak representatives: "You can either survive or disappear."
The court was also shown a clip of Mladic speaking to a Canadian Serb in 1994, saying: "Whenever I come by Sarajevo, I kill someone in passing."
In the clip, Mladic went on to say that the time had come to take revenge on "the Turks" – a pejorative term for Bosniaks – and boasted that their villages had been "trashed".
These words, said Tieger, demonstrated Mladic's "pride and satisfaction" in the ethnic cleansing campaign carried out by forces under his command, as well as his "contempt for the victims".
Using statements by officials from the Bosnian Serb Army, which Mladic commanded, as well as from UN personnel, Tieger argued that the chain of command was clear and that Mladic had enjoyed a high level of authority over and awareness of his forces' activities.
The prosecution contends that the key goal of senior Bosnian Serb officials including Karadzic and Mladic – forming an ethnically-pure Serb state – was in place by the time the war began in 1992.
They then sought to use ethnic cleansing to change the "factual state" of the ethnic composition of regions they wanted to control in order to exert pressure in negotiations with the Bosnian government, Tieger said.
Threatened with military force in which Mladic was a main player, the Bosnian government was told to acquiesce or face a "highway of hell and suffering", he added.
Mladic, who led the Bosnian Serb Army from May 1992, stands accused of the genocide of Bosniaks from Srebrenica in 1995, the persecution of Bosniaks and Croats throughout Bosnia and Herzegovina, which allegedly reached the scale of genocide in several other municipalities, terrorising the population of Sarajevo during the 44-month siege of the Bosnian capital, and taking UN peacekeepers hostage.
The Srebrenica massacre saw the killing of more than 7,000 Muslim men and boys by Bosnian Serb forces, while about 10,000 people died under siege in Sarajevo due to sniper fire, shelling, and other privations.
The 74-year-old has said he is innocent of the charges.
The prosecution will give closing statements until Wednesday, while the defence will sum up between December 9 and 13.
Both sides will then have the opportunity to comment on each other's closing statements on December 15 at the UN court.
The trial began in May 2012, and a verdict is expected in 2017.
(Published on Balkaninsight 5. 12. 2016.)