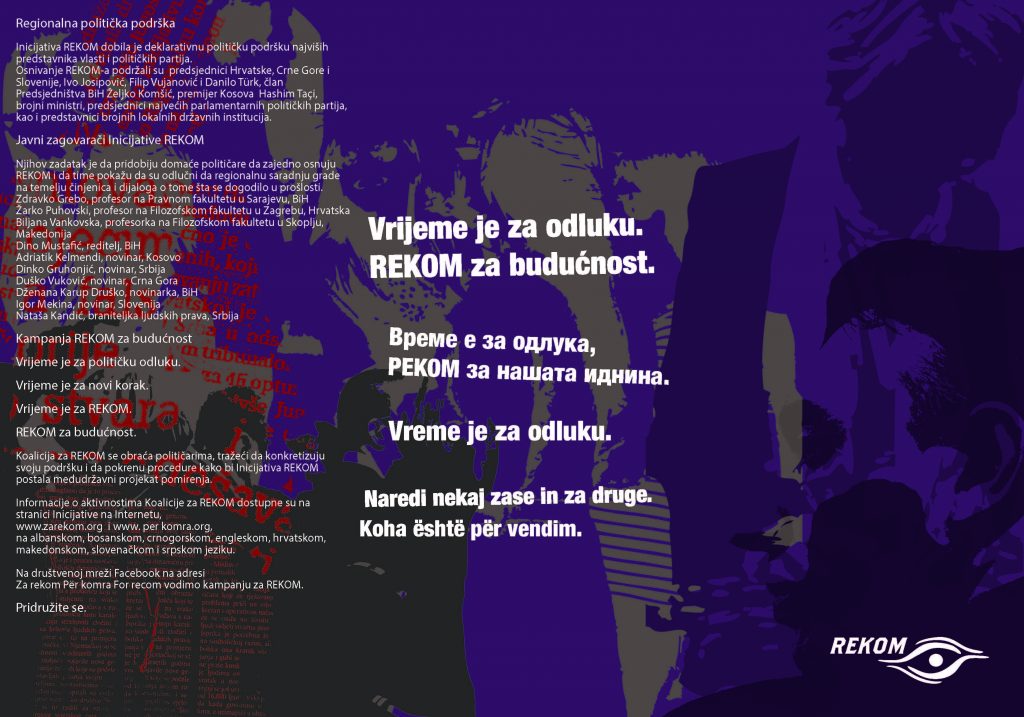 CG 1
27.02.2014.
Process RECOM – September 2012 – January 2014
 Activities Report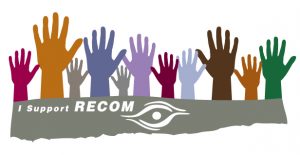 During the reporting period, the Coalition for RECOM achieved results beyond expectations and plans. The public actions RECOM for the Future, RECOM for the Future of the Youth, I Run for RECOM and I Support RECOM have shown that people in post-Yugoslav countries support the RECOM Initiative, above all because it is a regional initiative with clear objectives and tasks and originates from a local level; Transitional Justice, Accountability   and Remembrance BH (TJAR) and the Center for Democracy and Transitional Justice (CDTJ) are jointly working on the project 'Mapping the Camps in BH', and thereby directly contributing to RECOM's commitment to listing all the camps from the 1990-2001 wars; the artistic community has established itself as a promoter of the values of empathy as a precondition for rapprochement, respect, trust and reconciliation in the Balkans; and the public advocates of the RECOM Initiative have succeeded in getting the Presidents of Croatia, Serbia, Kosovo, Montenegro and Macedonia and two Members of the BH Presidency to appoint their personal envoys to RECOM. The first meeting was held on 6 September 2013, with the envoys expressing their unreserved support for Articles 13 and 14 of the RECOM Statute proposed by the regional Coalition. At the second meeting, held on 27 October 2013, the state presidents' envoys to RECOM examined closely the articles up to Chapter VII of the Proposed RECOM Statute and passed their opinions on RECOM's powers, the election of the Selection Panels, the operation and inquiry periods, a number of specific terms and other matters concerning the legal and constitutional possibilities for the establishment of RECOM.
In addition to that, the Coalition has expanded considerably during the reporting period. It now has 1,982 members. It is the largest coalition for transitional justice and has the capacity to help the states in the region of the former Yugoslavia to establish RECOM and implement its mandate as regards registering civilian and military victims, camps and prisoners subjected to torture and extrajudicial killing. The Regional Coordination (network of partner organizations) is proceeding smoothly, thanks to the members' great commitment, know-how and responsibility. Most Coalition members take part in debates on reconciliation, and the younger members participate also in street actions and online campaigns. All members of the Coalition are receiving the RECOM Initiative !Voice, which has gained the reputation over time as being a magazine for discussing topical issues of transitional justice in post-Yugoslav countries. The meetings with the religious communities have shown the existence of difficulties in establishing communication and cooperation with the Serbian Orthodox Church in Serbia.