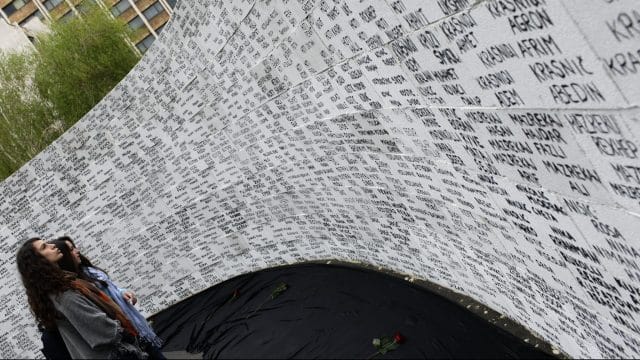 The names of missing people, both Albanians and Serbs, on a wall in Pristina, April 2011. Photo: EPA/VALDRIN XHEMAJ.
Ruling Vetevendosje party MP Arbereshe Kryeziu Hyseni was criticised for saying that finding ethnic Albanian missing persons from the Kosovo war should be prioritised over looking for Serbs who disappeared.
A group of Kosovo civil society organisations called on the Kosovo authorities on Thursday to condemn comments made by ruling Vetevendosje (Self-Determination) party MP Arbereshe Kryeziu Hyseni, who said that ethnic Albanian missing persons are more of a priority than Serbs.
During a show on Pristina-based Klan Kosova TV on June 15, Kryeziu Hyseni said that "the issue of the missing persons of the Albanian people should be treated seriously and with high priority, and after their turn, we can talk about the missing Serbs".
The Informal Coalition for Dealing with the Past said that Kryeziu Hyseni was "denigrating" Serb war victims and cited constitutional law that insists on equal treatment for all war victims regardless of their ethnicity.
Kosovo's law on missing persons also prohibits any form of discrimination.
But Kryeziu Hyseni told BIRN on Friday that she stands by her comments.
"We have to remember that a genocide was inflicted on the Albanian nation [in Kosovo]. The war was started by Serbia and we are a nation that was attacked by Serbian criminals," she said.
"I stick to what I have said… We were victims of the Kosovo war," she added.
A Kosovo government spokesperson told BIRN that it "does not deal with missing persons on ethnic grounds but based on information" that it has obtained about their whereabouts.
"All cases related to missing persons, whoever reports them, are treated equally by institutions of the Republic of Kosovo," said government spokesperson Rozafa Kelmendi.
The Informal Coalition for Dealing with the Past said that ethnic discrimination "undermines the reconciliation process".
"The government of Kosovo, the Kosovo Assembly, the State Prosecutor's Office, the institutions of justice and the whole of society must have the same approach to all war victims, and only in this way will we be able to create a peaceful and equal society," the Coalition said.
Over 1,600 people, mainly ethnic Albanians but also some Serbs, are still listed as missing from the Kosovo war.
Perparim Isufi and Mediana Halili
---