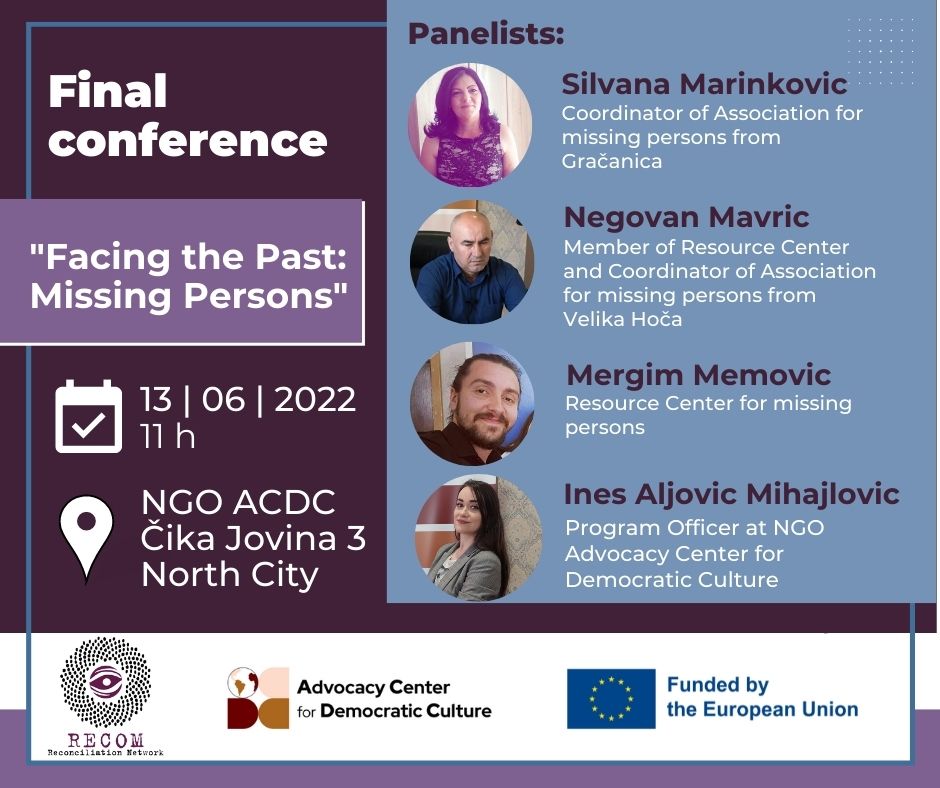 INVITATION
Final conference
     13th June 2022.
11.00 – 13.00
NGO Advocacy Center for Democratic Culture cordially invites you to participate in the final conference entitled "Facing the Past – Missing Persons". At the conference, the results of the project will be presented regarding the process of final resolution of the problem of missing persons, as well as how important this issue is for the reconciliation process. In addition, panelists will present the problems and the situation of the families of the missing, two decades after the end of the conflict in Kosovo.
Also, during the conference, there will be a discussion on prejudices, barriers, and fear of open conversation among communities, and whether they are ready to create space for progress together.
Panelists:
Negovan Mavrić, Member of Resource Center and Coordinator of Association for missing persons from Velika Hoča
Silvana Marinković, Coordinator of Association for missing persons from Gračanica
Mergim Memović, Resource Center for Missing Persons
Ines Aljović Mihajlović, Program Officer at ACDC
Aleksandar Rapajić, Moderator
The conference will be attended by civil society activists, representatives of judicial institutions, representatives of international organizations, and the media.
The discussion will take place on 13th June from 11 am on the premises of ACDC and can also be followed via the Zoom platform using the link:
https://us02web.zoom.us/j/89542471274
Please confirm your participation via e-mail: ines.aljović@acdc-kosovo.org
Agenda
10:50 – 11:00             Registration of participants
11: 00- 11:30              Negovan Mavrić, the status of missing persons in Kosovo
11: 30- 12: 00             Silvana Marinković, problems of families of missing persons in Kosovo
12:00- 12:30              Mergim Memović, the status of missing persons and the problems of families of missing from the perspective of the Albanian community
12:30 – 12:50             Ines Aljović Mihajlović, project results, and recommendations for further work
12: 50-13: 00              Discussion (Q&A) and Conclusion