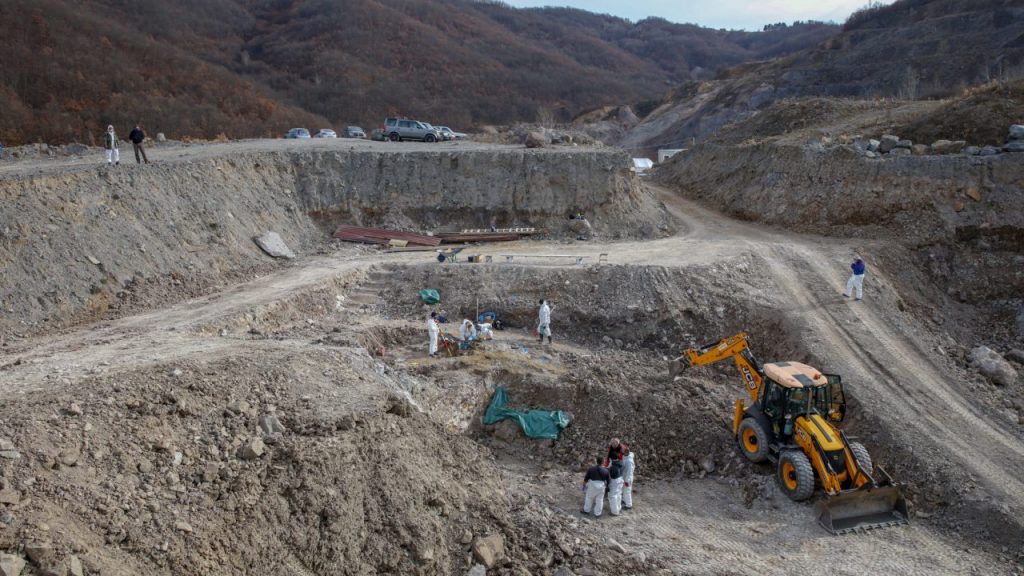 War grave excavation in Kizevak in Serbia in November 2020. Photo: BIRN/Marko Risovic
European parliamentarians adopted reports calling on Serbia and Kosovo to do more to investigate suspected wartime grave sites and resolve hundreds of remaining missing persons cases from the 1998-99 Kosovo war.
MEPs in the European Parliament adopted two separate reports on Thursday evening urging Serbia and Kosovo to be more efficient in investigating the remaining missing persons cases from the 1998-99 Kosovo war.
The report on Kosovo calls on the Pristina authorities to make "greater efforts in dealing with the requests of family members of missing persons" and asks for "the opening of all wartime archives".
The resolution also calls on Serbia to "investigate the remains of three bodies so far exhumed during searches in a mass grave in Kizevak village". The gravesite in Kizevak in southern Serbia was found in November 2020 and is believed to contain the remains of Kosovo Albanian war victims.
Over 1,600 people, mostly ethnic Albanians but also Serbs, remain missing from the Kosovo war.
The report on Serbia that was adopted by MEPs stresses the "importance of regional cooperation on war crimes and investigating cases of missing persons".
It also urges Serbia to make more effort in "rejecting hate speech and the glorification of war criminals, and supporting domestic prosecutors in bringing perpetrators to justice".
The report makes several mentions of hate speech and Srebrenica genocide denial in Serbia, and urges the country to tackle "falsification of the facts established by the ICTY [International Criminal Tribunal for the Former Yugoslavia]".
The European Parliament's report on Bosnia and Herzegovina has not been adopted yet, but its draft version urges the country to "expedite effective prosecution of war crimes under the revised National War Crimes Processing Strategy".
The draft report on Bosnia and Herzegovina also condemns "any kind of historical revisionism, secessionist rhetoric and related acts, denial or glorification of war crimes committed during the 1990s war".
As well as reports on Serbia and Kosovo, the European Parliament also adopted a reports on North Macedonia on Thursday. All the reports on former Yugoslav countries urge political leaders to support the creation of RECOM, a commission to establish the facts about all the war crimes and other human rights violations committed in the region.
Milica Stojanović
---
This article was was originally published on balkaninsight.com.