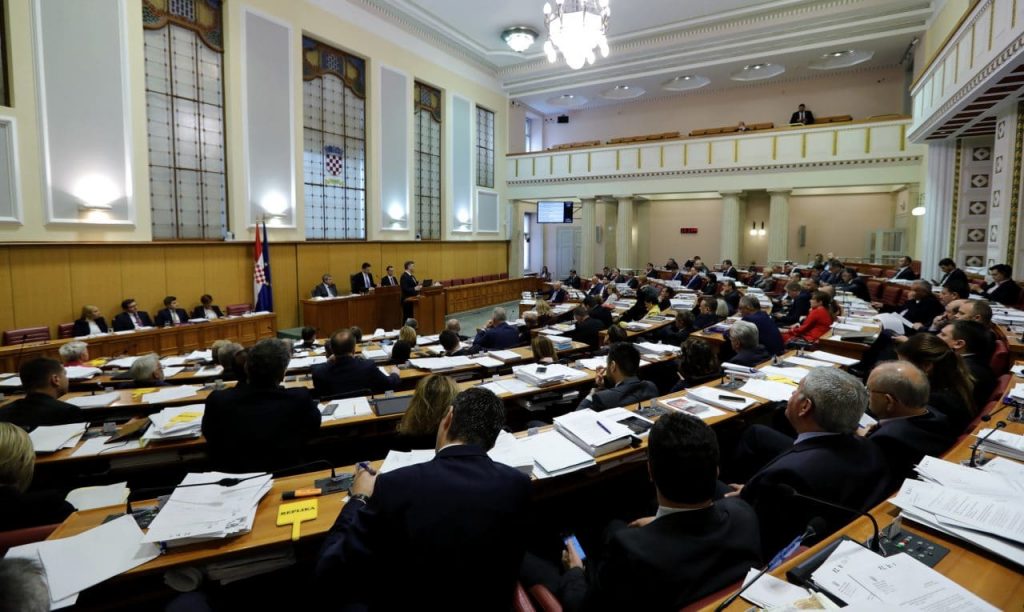 MPs in the Croatian parliament. Photo: EPA/ANTONIO BAT.
With an overwhelming majority, Croatia's parliament adopted new legislation that will grant welfare benefits to civilian victims of the 1991-95 war.
A law that will grant benefits to civilian victims of the 1991-95 war was adopted by Croatian MPs on Thursday with 107 votes in favour, 16 against and five abstentions.
It was passed after heated discussions in parliament about whether the law would also give benefits to people who were part of 'enemy' Serb forces during the war.
The legislation, proposed by the centre-right government led by Croatian Democratic Union, provides financial compensation for people who became disabled as a result of the war or people who lost family members, as well as funding specific items like prosthetics.
Under the law, relatives of civilians who went missing in wartime but who have not yet been officially declared dead will be able to claim benefits even before a death certificate is issued for the missing person.
The government expects there to be about 2,500 beneficiaries of the new law.
Croatian right-wing MPs have criticised it, saying that "aggressors" and former Serb troops could get financial benefits.
Some of them even suggested denying benefit rights to Serb civilians who lived in the so-called Republic of Serbian Krajina, a territory within Croatia that was controlled by rebel Croatian Serbs, who were helped by the Yugoslav People's Army and Serbian paramilitaries, from late 1991 until 1995.
In proposed amendments, which were rejected by the government, MPs from the right-wing Homeland Movement demanded that the rights established by the new law should not be exercised by "persons who voluntarily lived in the occupied territories during the Homeland War over which the Republic of Croatia was unable to exercise power, ie. persons who did not resist the aggressor".
The law does however strictly stats that members, helpers or associates of enemy military and paramilitary units who took part in the armed aggression against Croatia, well as members of their families, cannot receive benefits.
Some human rights NGOs and some opposition MPs have pointed out that Serb civilians could have difficulties proving that they did not aid or collaborate with the 'enemy'.
Zagreb-based NGO Documenta – Centre for Dealing with the Past and the Serbian National Council, which represents the Serb minority in Croatia, supported the legislation.
Last week, the head of Documenta, Vesna Terselic, said the adoption of the law represents a step forward in Croatian society, and although "it is not perfect", it does address the problems of families of the missing persons and people who survived torture in wartime detention camps.
Anja Vladisavljević
---
This article was was originally published on balkaninsight.com.