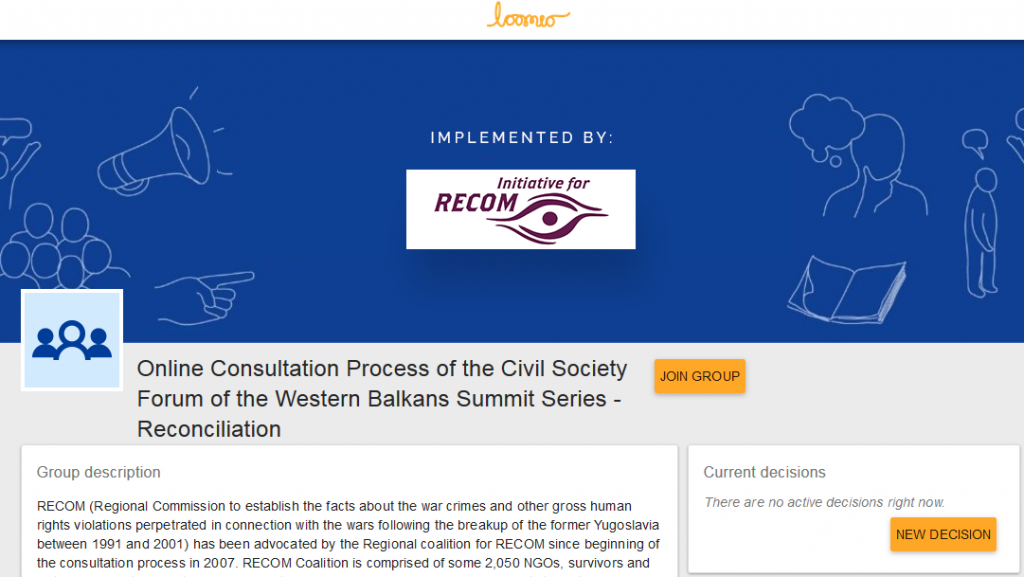 Started by Marijana Toma
a month ago
Several discussants in the previous topic argued that establishment of RECOM would benefit different groups that are vitally important for the success or failure of the process of reconciliation in the region. While many are praising the transformative power of RECOM for victims, as being the institution that would provide justice, there were those who claimed the RECOM can fill in the gaps that remained after unsatisfactory achievements of the war crimes trials, but there were those who also argued that RECOM does not possess enough power to successfully challenge nationalists understanding of collectiveness.
Beside these groups, what are the real benefits of establishment of RECOM, if any, for those that choose not to participate in the process, the silent majority in the societies eager to close the book of the past and move on into the future, without remembering the violence experienced in the 1990s?
RECOM ensures that any attempt at transitional justice retains the core commitment to truth recovery. This is crucial in an era in which transitional justice has become increasingly commodified into a smorgasbord of options. One risk is that these options override that aspect of transitional justice which consistently proves most uncomfortable for governments: truth recovery. When truth is not retained as the sine qua non of all other Transitional Justice projects, the result is catastrophic:
Prosecutions may become selective, such that a formerly warring group now reformed as a political party actively blocks investigations into crimes committed by its own members while moreover motivating – in the name of Rule of Law – for prosecution of its opponents. Examples of selective prosecutions abound from throughout globe – with the Sisi regime in Egypt,the Erddogan regime in Turkey,the International Criminal Tribunal in Bangladesh, to cite but a few.
Public institutions may be staffed with party loyalists instead of technically capable citizens committed to earning public trust, daily, through impartial discharge of their duties. This problem becomes particularly conspicuous, and consequential, when the institution concerned has a human rights mandate. The integrity of national human rights institutions and transitional justice mechanisms, and their very ability to fulfil their mandates, derives from the trust they are able to draw from victims and from the broader public. This necessarily involves figures selected through public consultation and widely respected for their impartiality and universal application of human rights – across partisan boundaries. One example of worst practices in this regard may suffice: the disastrous truth and reconciliation commission established in DR Congo as part of the agreement that marked the end of hostilities between multiple belligerents, the Accord global et inclusive. The eight parties to the Congo's peace accord each had representation in all transitional institutions, of which the truth commission was one. In the two years of its existence not one victim walked through its doors to offer testimony.
The concept of "reparations" may be altered to mean distribution of funds to war veterans,martyrs' families and other partisans of one side to the conflict or another – in short, to entrench systems of patronage among party faithful impacted by the conflict, as recompense for their suffering and to ensure their continuing loyalty. Reparations is, however, a juridical concept with a specific – and very different – meaning: it pertains specifically to the obligations owed by a State to victims of Gross Violations of International Human Rights Law and Serious Violations of International Humanitarian Law – in other words, to those who have suffered gross violations of their basic human rights (GVHRs), through acts perpetrated by State agents(acts of commission) or enabled as a direct result of failures of State agents to fulfil their responsibilities (acts of omission). Making the term refer to measures for tackling conflict related anguish in general rather than the specific suffering of victims of GVHRs enables the State to avoid its obligations vis-à-vis acts for which they are responsible. Libya represents but one example, where reparations have been widely understood as monetary compensation chiefly to the families of fighters declared "martyrs" for their role in the fight against Colonel Muammar Ghaddafi.
And even the term "reconciliation" may be appropriated as a euphemism for a general amnesty, that is, a legal mechanism by which victims' right to legal remedy is blocked, as with Algeria's Charte pour la paix et la reconciliation (Charter for Peace and National Reconciliation), which effectively prohibits even inquiries by the families of the Disappeared into the fate of their loved ones or the whereabouts of their remains. In short, truth is the sine qua non of any meaningful transitional justice process, and without it the process, the funds that go into it, and most crucially even the needs of victims get manipulated and abused beyond recognition. Truth limits politicians space to manoeuvre.
a month ago
  Natasha Stamenkovikj and Bekim Blakaj like this.