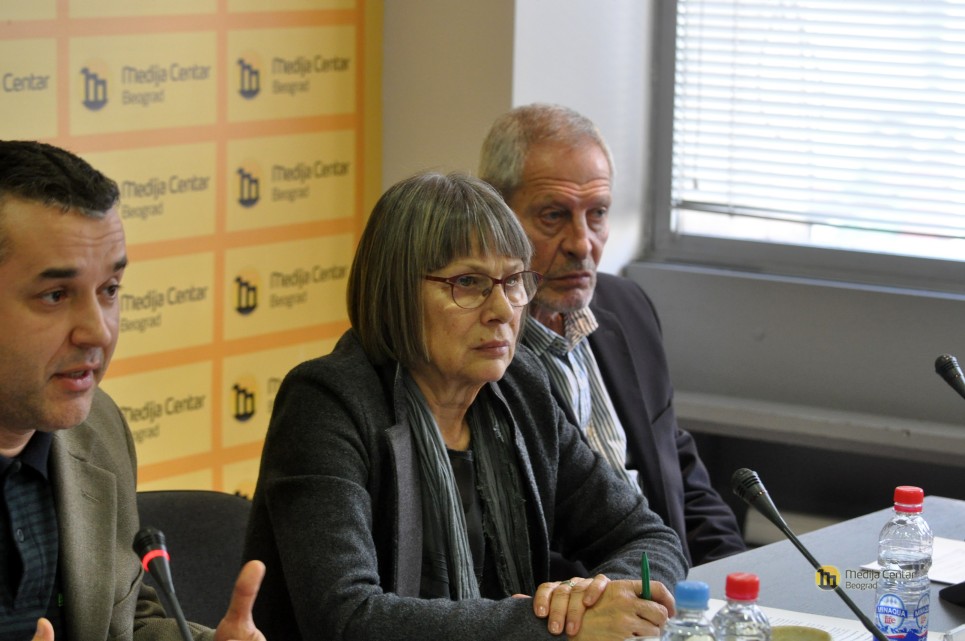 11162015-rekom-10-
17.11.2015.
Balkan Politicians 'Not Taking Reconciliation Seriously'
Constant self-victimisation is prolonging the divisions that fuelled the conflicts in the former Yugoslavia in the 1990s, experts warned during a discussion in Belgrade.
Marija Ristic, BIRN, Belgrade
Politicians are failing to properly address the issue of post-war reconciliation, experts told a panel discussion on Monday organised by a coalition of NGOs involved in campaigning for a regional truth commission for the former Yugoslavia, RECOM.
"There is a tendency from both local politicians and internationals to reduce the reconciliation process to formal events such as signing of various agreements, official visits, et cetera," said Eric Gordy, a senior lecturer from University College London.
"It's also problematic that only politicians who are making these visits and statements are involved in the process, while there is no reconciliation in depth, among institutions and citizens," Gordy added.
The discussion in Belgrade was part of 15 planned debates in six former Yugoslav organised by NGOs gathered under the umbrella For RECOM.
For RECOM wants a regional truth commission which would produce a definitive list of all those killed and missing along with a list of camps and detention sites during the armed conflicts from 1991 to 2001 in the former Yugoslavia.
Natasa Kandic, who coordinates the For RECOM initiative, said it was important not to just establish facts at a state level, but right across the region.
"We believe that due to its regional character of this commission, we can prevent atrocities in the future," Kandic said.
The initiative to set up RECOM has so far received backing from heads of state in Serbia, Kosovo, Slovenia, Croatia, Macedonia. The Bosniak and Croat members of Bosnia's tripartite presidency have also backed it, but the Serb member has not.
Ratko Bozovic, a retired Serbian sociology professor, told the discussion in Belgrade that the problem in post-Yugoslav countries is that people wdere not willing to forgive.
"There is no culture of reconciliation and this is a huge problem. There will be no reconciliation when there is no forgiveness and there is no forgiveness without establishing the truth," he said.
Sima Spasic, head of the Association of the Families of the Kidnapped and Murdered in Kosovo and Metohija, which is involved in the RECOM process, said families of victims have trouble accepting statements from politicians because some of them previously worked for state institutions that committed war crimes.
"As long as all those who committed crimes are free and not held accountable, there will be no reconciliation," Spasic said.
Bitter words: politicians on the past
For RECOM produced a report on statements by local politicians about reconciliation focusing on key events this year including the 20th anniversary of Srebrenica, the Serbia-Kosovo dialogue and the 20th anniversary of Croatia's Operation Storm. These sample quotes are extracted from the report:
"I believed that all people want to think about the future, but now I have seen that some of them see reconciliation as a need to humiliate Serbs." Serbian Prime Minister Aleksandar Vucic after the 20th anniversary commemorations of the Srebrenica massacres.
"Serbs are the people who suffered much more than any others during the two world wars, and who also suffered during the Bosnian war." Serbian President Tomislav Nikolic ahead of a UN vote on a resolution about Srebrenica.
"Random crimes towards Serbs cannot be compared to the attempt to expel Bosniaks." Bakir Izetbegovic, the Bosniak member of the tripartite Bosnian presidency.
"Bosniaks don't want reconciliation, they want to collectively punish the entire Serbian people, they want them removed from this area… they want Bosnia and Herzegovina only for them." Milorad Dodik, president of Bosnia's Serb-led entity Republika Srpska.
"We in Croatia don't want to return to the past, we are offering the hand of reconciliation and tolerance, we don't want to blame Serbian people for the aggression against our state. But we will never allow the aggressor to be equated with the victim." Croatian President Kolinda Grabar Kitanovic before the Operation Storm commemoration.
"There is a need for Serbia to accept guilt and only then we can talk about reconciliation between Kosovo, Serbia and Albanians." Kosovo Foreign Minister Hashim Thaci. The discussion in Belgrade was part of 15 planned debates in six former Yugoslav organised by NGOs gathered under the umbrella For RECOM.