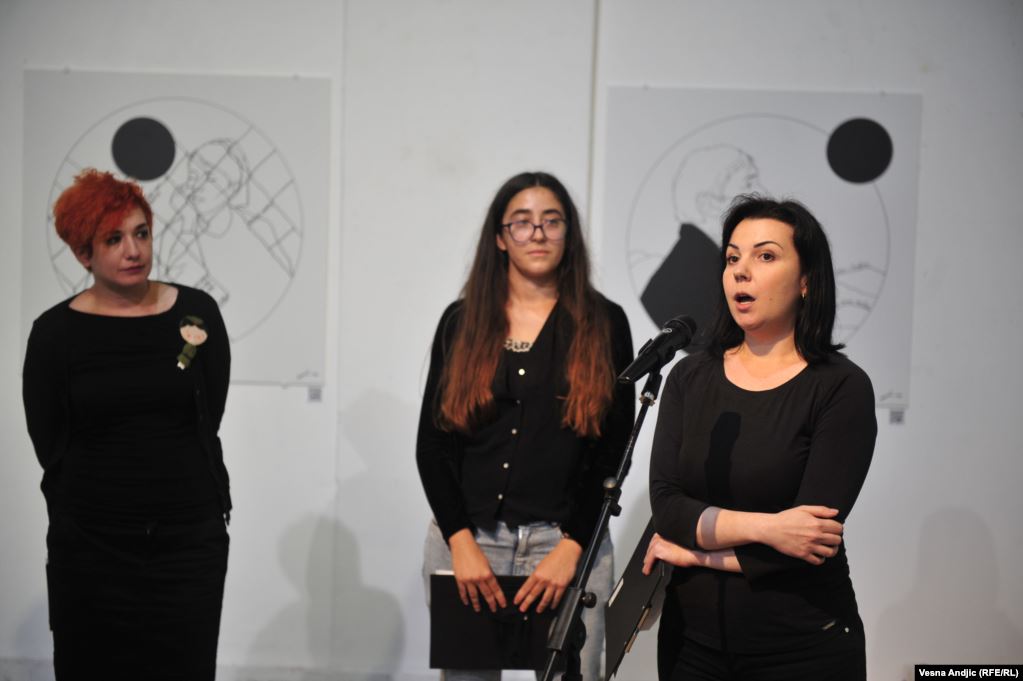 AC89E7A7-DEF8-489E-8574-C0C1AEA5C379_w1023_s
"These names should have never been read, this exhibition should have never been created, the genocide in Srebrenica should have never been committed". These are the words of Ivana Žanic, Humanitarian Law Center executive director, that opened "ArchiWar – Stories and Memories of the Srebrenica Genocide" exhibition in Belgrade's Center for Cultural Decontamination.
The author, Jelena Jaćimović, emphasizes the exhibition "represents a way of resisting the dominant memory politics in Serbia, based on nationalism and militarism that encompasses the denial of war crimes and genocide committed by Serb forces, glorification of sentences war criminals and the army, and instrumentalisation of Serb victims". Fifteen drawings that should preserve the stories of the genocide victims, survivors and their families are the very core of this exhibition, but it is also imagined as an interactive concept, an invitation for the visitors to listen to and watch the testimonies, documents, photographs and videos that have inspired the artist.
The both aspects of the exhibition, artistic and documentary, make a whole that should bring the experiences of the survivors closer to the visitors. The story of Amra Begić Fazlić, whose grandfather and father were killed in Srebrenica and whose letter Jelena Jaćimović read at the exhibition opening, is what initially inspired the artist to start a research and create the exhibition. Now we can see her face in one of the illustrations –"Amra".
The other fourteen represent the faces of the witnesses and their families, but also other striking and painful details of their experiences. The most common witnesses are women who lost their family members, but also those who survived the 1995 events as children.
Ramiz Nukić inspired the drawing "Bone Collector", but he is also an important part of the other illustrated stories. His nickname originates from the fact he has been collecting mortal remains of Srebrenica victims in the nearby forests for years. That is why when talking about Srebrenica, we always listen about the necessity for the families to find and bury their loved one's bones, and also about the impossibility of that as an obstacle to accomplishing justice for the victims.
Jelena Jaćimović's exhibition represents an outstanding example of a successful archival material and artwork integration. Two aspects of the exhibition illustrate and complete each other. That is how the artist becomes an archivist of the Srebrenica genocide remembrance. It is also crucial that the complete exhibition is available online, as a part of, as Jaćimović hopes, a longer project, that will feature other artists' contribution to Srebrenica memory.
Exhibition "ArchiWar – Stories and Memories of the Srebrenica Genocide" will be displayed until October 4, and it is available online at archiwar.com.
The exhibition is a collaboration with The Humanitarian Law Center, and it was supported by Reconstruction Women's Fund.
Aleksanda Aksentijević for RECOM