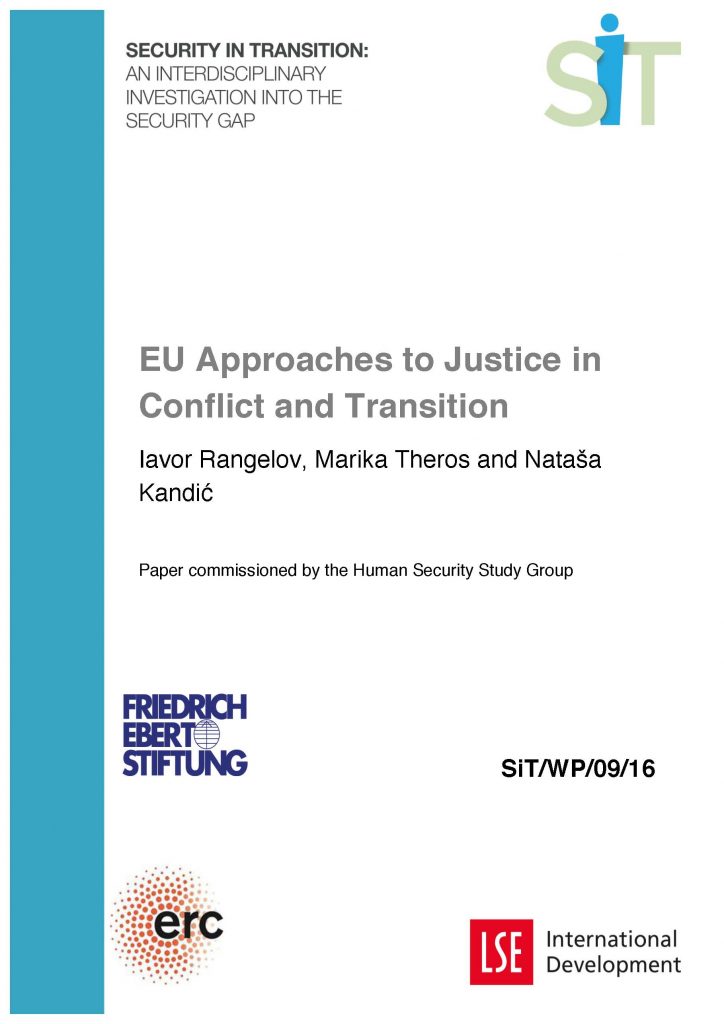 EU Approaches to Justice cover
05.03.2016.
EU Approaches to Justice in Conflict and Transition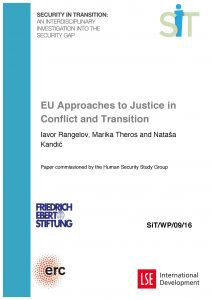 This is a background paper commissioned by The Human Security Study Group for The Berlin Report, presented to High Representative of the Union for Foreign Affairs & Security Policy Federica Mogherini on 24 February 2016 in Brussels.
Authors: Iavor Rangelov, Marika Theros and Nataša Kandić
Abstract
This paper examines EU approaches to justice for gross human rights violations in conflict-affected environments. It starts with a discussion of the significance of justice from a human security perspective and emphasises how a spectrum of abuse and criminality – human rights abuse, organised crime, corruption – is at the heart of today's conflicts. The paper then assesses EU justice policies and practices in relation to three human security principles: the primacy of human rights, a bottom-up approach and a regional approach. We argue that EU engagement in justice issues plays out differently in 'liberal peace' and 'war on terror' contexts, and draw on evidence from the Balkans and Afghanistan to illuminate some of these differences. The final section highlights the main challenges for the EU in advancing justice for atrocity crimes and economic crimes, and offers a set of recommendations for aligning EU justice policies with a human security approach. In particular, we argue for a shift in thinking about the role and potential of justice in today's conflicts and identify the key elements and resources needed for developing an alternative approach.
Download paper: EU Approaches to Justice in Conflict and Transition