Sjeverin-Spomen-obiljezje-otetim-Bosnjacima
24.10.2015.
Anniversary of 23 years since abduction of 16 Bosniaks from Sjeverin marked
memorialisation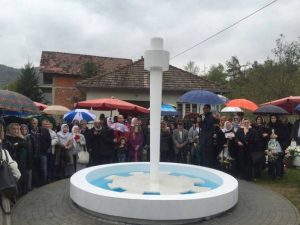 Priboj – The opening of the memorial and dropping of flowers into the river Lim marked 23 years since the abduction and murder of 16 Bosniaks, who on this day more than two decades ago went on their last bus ridie on a regular route between Rudo – Priboj.
The bus was stopped in the village of Mioce in Bosnia and Herzegovina, on the way to Priboj in Serbia, where it regularly operated, only Bosniaks were brought out – 15 men and one woman.
The monument, in the words of the president of the municipality of Priboj, will be unlike others in the Balkans, one that connects people with the hope that crimes like this never happen to anyone again.
According to words of the highest representatives of the Islamic Community in Serbia, Meshihat President Mufti Dudić and Sandzak Mufti Zukorlić, never again should  evil be allowed to overcome good. Sandzak Mufti Muamer ef. Zukorlic praised the participation of the local government in the construction of the monument as well as the positive messages that were addressed by the president of the municipality, but sent a strong protest as the biggest state representatives were not among those present although this crime is a national issue.
As a reminder, on October 22,  1992 in the early morning hours, a bus full of workers on the Sjeverin – Priboj route in Mioče was stopped and 16 Bosniak, who were traveling for work in Priboj, were carried out. The kidnapping was committed by people in uniforms adorned with Serbian emblems . That same day the abducted were taken to Visegrad, in the territory of Bosnia and Herzegovina, where they were tortured and killed on the bank of the Drina River, and then thrown into the water.
For this monstrous crime only four direct perpetrators were convicted, while investigations into the apparent involvement and the role of state authorities in the preparation, organization and execution of the crime has not yet been launched.