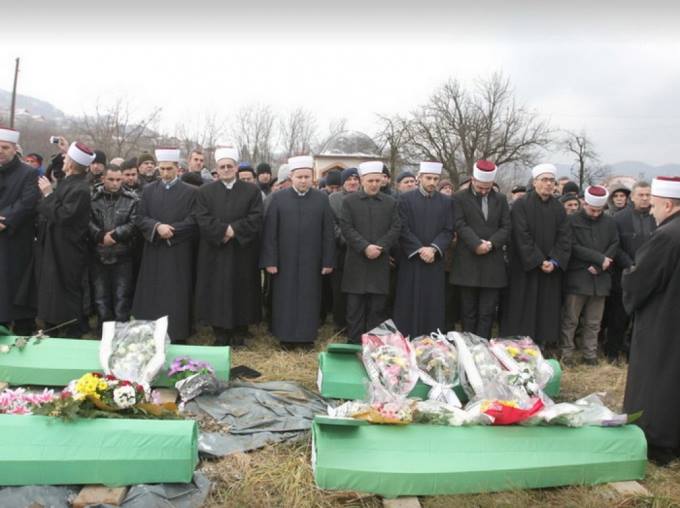 12509194_494615490716403_2013918930084584325_n
Four sisters, killed in July 1992 at the age from 4 to 13, were buried today in Zvornik. Funeral ceremony for sisters Zlatija (13), Zijada (7), Suvada (5) and Almasa (4) was attended by about 200 people.
Coffins with the bones of sisters Ribic were transported from the Commemorative Centre in Tuzla to Zvornik earlier today. Coffins of all four sisters were lowered by their brother Zijo. They were buried next to their mother Sefka and father Ismet, who were found earlier in the mass grave Crni Vrh.
On 12 July 1992, Serb paramilitary formation "Simini cetnici" killed six girls and a boy, all minors, and their mother and father. Zijo was the only one from Bosniak family Ribic who survived the massacre. Zlatija was raped before she was killed. They also tried to kill Zijo, they shot him and threw him in the pit, but 8-year-old boy miraculously survived.
Zijo continues to search for the remains of his two sisters Ismeta and Zlata and brother Sabrija, who was only 2 when he was killed.
Today's funeral was attended by RS vice president Ramiz Salkic, FBiH minister for refugees Dzevad Mahmutovic, advisor to BiH Presidency member Bakir Izetbegovic, and director of Humanitarian Law Center from Belgrade Natasa Kandic. Fate of family Ribic is one of the saddest stories of war in Bosnia. (Bosnia Today, 17.01.2016.)
Interview with Zijo Ribic for RECOM.link – I Survived That Massacre For A Reason, So I'll Keep Fighting
Article about Zijo Ribic, and war crimes against Roma population in Former Yugoslavia – Roma War Traumas Have Yet To Be Addressed