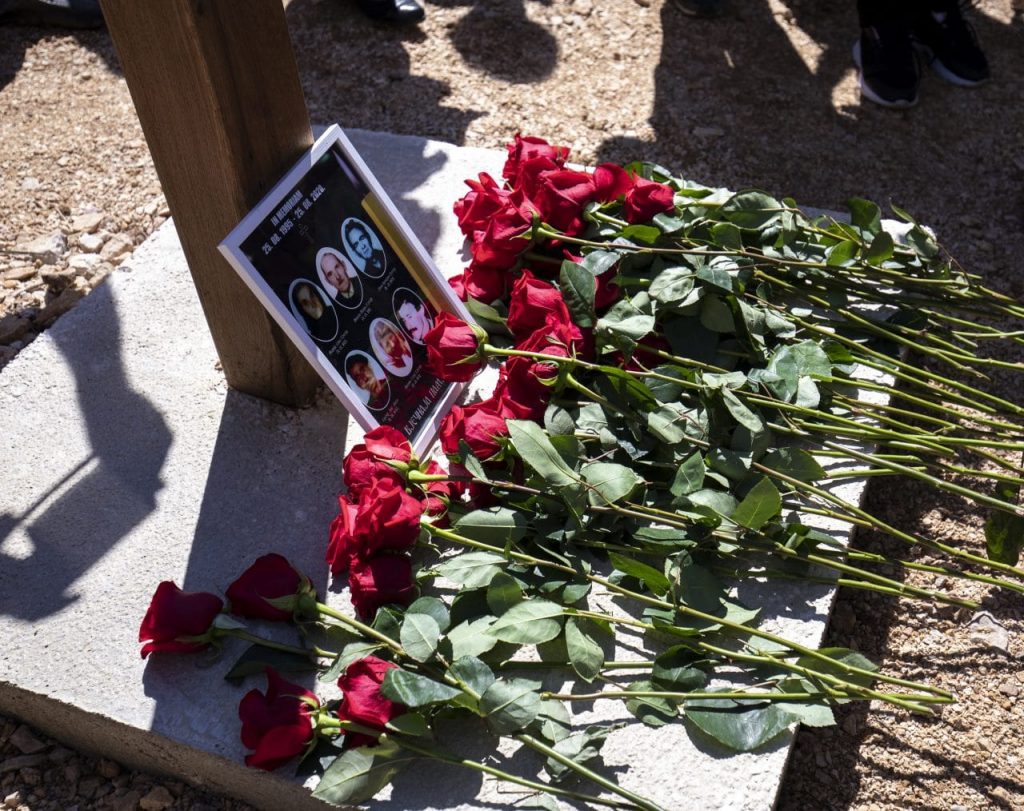 A ceremony in August 2020 in the village of Grubori near Knin in Croatia commemorating the 1995 killings of Serb civilians. Photo: EPA-EFE/MIRO LELAS.
Croatia aims to pass legislation that will grant benefits to civilian victims of the 1991-95 war – but experts warn that the draft law in its current form could omit some people who suffered, including some Croatian Serbs.
Twenty-five years after the war in Croatia ended, a law that will set out the rights of civilian victims of the conflict, parents of children who were killed, children of parents who were killed and families of missing persons has finally been drafted, and the Croatian government expects it to be passed by parliament by the end of the year.
The law will provide financial compensation for people who became disabled as a result of the war or people who lost family members, as well as funding specific items like prosthetics.
Branka Vierda from the Youth Initiative for Human Rights campaign group said that despite the very long delay, this is good news.
"A complete legal solution that regulates the exercising of rights and the acquisition of status for a specific group – civilian victims of war – has long been expected and is worth adopting even 25 years after the end of the war," Vierda told BIRN.
Online public debate on the draft legislation ended last Saturday, and many organisations involved in the issue have welcomed it, but some have warned that it could deprive some war victims of their rights to financial compensation, orthopaedic aids and priority status for employment and accommodation in care homes.
Civilians' limbs worth as much as war veterans'
Julijana Rosandic from the Union of Associations of Civil Victims of Croatian Homeland told Croatian newspaper Vecernji list in October that she is satisfied with the draft legislation, noting that it is "crucial that it provides compensation for the loss of a family member".
Under the new law, relatives of civilians who went missing in wartime but who have not yet been officially declared dead will be able to claim benefits even before a death certificate is issued for the missing person.
"There are also better conditions for people with disabilities; namely that we managed to agree that the leg and arm of a war veteran have the same value as the leg and arm of a civilian," Rosandic said.
She herself was injured during the 1990s war, alongside relatives in the Croatian town of Slavonski Brod, when Serbian troops shelled it from neighbouring Bosnia.
According to the new law, people with disabilities who were injured in the war, can receive a monthly benefits ranging from 114 to 3824 kunas (19 to 506 euros), depending on how badly they have been disabled.
Rosandic was among those who for years have urged Croatian authorities to bring in such a law. Similar calls came from the Ombudsperson and NGOs, because there are laws regulating the rights of military and civilian invalids and victims of wartime sexual violence, but no unique law for all civilian victims of war.
Vierda argued however that a "comprehensive strategy" is needed to deal with all the issues arising from the 1990s war, not just a series of laws.
Some participants in the public discussion also warned that in some cases it will be difficult to prove on paper that victims meet the conditions to secure benefits under the new law.
If a victim seeks compensation based on an illness or injury caused by war, due to an explosion, shooting or the consequences of being held in a detention camp, he or she must prove it with medical documentation obtained at the time of the injury or their release from captivity or during the 30 days afterwards.
The Zagreb-based NGO Centre for Peace Studies pointed out in a public discussion that it was not "realistic that all civilian victims of the war had the opportunity to obtain medical documentation within 30 days of the abuse".
The Centre for Peace Studies instead suggested the introduction of "alternative methods that undoubtedly show how the trauma/injury occurred, such as witness statements, media reports, reports from international and non-governmental organisations".
Vierda noted that wartime refugees, displaced persons and post-war returnees are not included in the current draft proposal, but she believes that the final version of the law will benefit "a larger number of victims than the draft proposal envisages".
"We hope that members of the Croatian parliament will be involved in the discussion in a constructive way, bearing in mind that certain groups of people who are civilian victims of war are not included in this draft law," she added.
All victims covered, except for some of them
Ivica Akmadza, the secretary-general of the War Veterans Ministry, explained to Vecernji list in October that the law will provide rights to "all victims". It will apply to Croatian citizens and to foreigners who "at the time of the accident had a permanent or temporary residence in the territory of the Republic of Croatia" and who do not have similar rights in another state.
"However, the law strictly states that the rights cannot be exercised by members, helpers or associates of enemy military and paramilitary units who took part in the armed aggression against the Republic of Croatia, as well as members of their families [who might seek compensation] based on the fact that they became casualties," Akmadza said.
Some observers have warned however that Serb civilians could have difficulties while proving that they did not aid or collaborate with the 'enemy'.
"We consider it necessary to define more precisely the terminology 'helpers of or collaborators with enemy military and paramilitary units', as well as in which way and on the basis of what decision it will be determined that a person assisted or collaborated with enemy military and paramilitary units that participated in armed aggression against Croatia," the Croatian Ombudsperson's office commented during the online public discussion.
The law also defines that a civilian invalid from the Homeland War is, among other things, "a person whose body has been damaged by at least 20 per cent due to a wound or injury received as a result of detention in a camp, prison or other enemy facility by members, helpers and associates of enemy military and paramilitary formations".
Vierda argued that this definition would exclude victims "who were detained and tortured in detention facilities under the control of Croatian forces".
She listed the examples of Lora prison camp in the coastal city of Split, the Kerestinec military prison near Zagreb and the Zagreb Trade Fair, where mostly Serb prisoners of war and civilians were abused.
Predrag 'Fred' Matic, a Croatian member of the European Parliament and former War Veterans' Minister, welcomed the law because "in every war, civilian victims are in fact the greatest victims".
"When a soldier takes a rifle in his hand, then he just about knows what might be waiting for him… but civilians are really innocent victims, collateral victims," Matic told BIRN.
He said that he prepared a similar law in 2014, but that it never saw the light of day because of an 18-month-long sit-in protest by Croatian war veterans, who camped out around the clock in a large tent right in front of his ministry, with the backing of right-wing politicians.
Some groups of war veterans and right-wing figures claimed that Matic's ministry, while preparing the law, did not clearly declare that Serbs started the armed aggression against Croatia in the 1990s and claimed that some of the aggressors could benefit from the proposed legislation, as Matic intended to include all war victims, including Serbs.
"They said: 'Fred, you are equating the victim with the aggressor,'" Matic recalled.
The former minister explained that he conducted a survey with the help of non-governmental organisations which found that the number of civilian war victims in Croatia is around 10,000.
"Here we come to the catch, because, roughly speaking, 9,000 victims are Croats, but 'unfortunately', 1,000 civilian victims are among the Serb population – which was a red rag for those war veterans' associations," he said.
Matic argued that all civilian victims should be treated equally: "If father Jovo was a Chetnik [member of a Serb paramilitary unit], he gets no rights from this state, but if a grenade tore off his son, little Jovica's leg, the Croatian state should give him the prosthesis that he needs," he said by way of example.
"If Jovica suffers because of his dad, we haven't moved on at all," he concluded.
Anja Vladisavljević
---
This article was was originally published on balkaninsight.com.