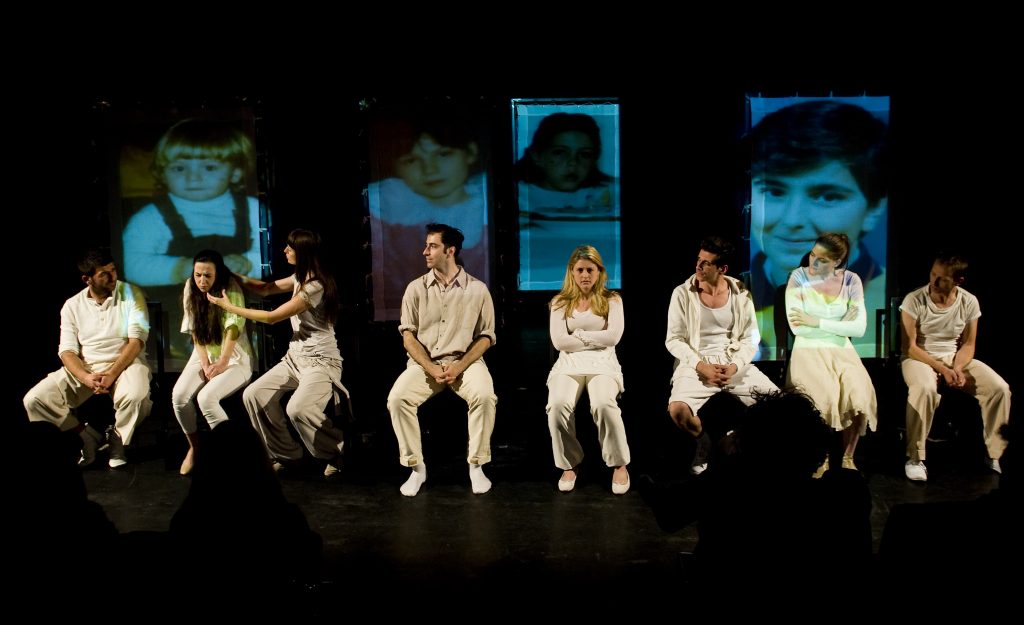 foto-HIPERMNEZIJA-svi
06.03.2015.
Using facts in art :: Theatre
Bojan Munjin
To Be Present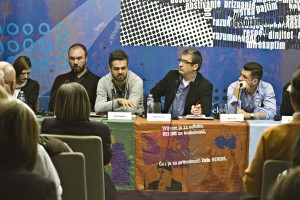 If you look at the Initiative for RECOM from a sufficient distance in time — from that Sunday morning when past wars were discussed alongside art and facts (within the Tenth International Forum for Transitional Justice in Post-Yugoslav Countries)— that meeting in particular could be said to have offered a moment of cathartic sublimity, or a heavy grain of drama. At one point, as in the fourth act of Hamlet, all the protagonists of the Yugoslav tragedy, which we cannot forget even after 25 years, were gathered together – its victims, witnesses, drafted soldiers, theatre (and film) artists, activists counting the dead and helped the living, and also those now adult, who were still very little and who watched the human catastrophe with horror. In fact, the lives of many of those present on that Sunday morning had been inscribed with the multiple roles, mixing professional resumés with human sufferings, art with awful reality, refugee camps with stage lighting, scars on the soul with sadness on their faces. This muffled internal landscape could be felt among the participants while they were still sipping their morning coffee in preparation for the conference, whose superficial outward signs made it look like any other conference meeting under the sun. Something was missing that morning, however—something only a post-traumatic therapist would be able to notice: people were talking in small groups, but there was no loud or casual laughter. Only violent death, like some obscene fact, and conscience as the one remaining human reflex, had brought all these people together, transforming the seemingly routine gathering into a site of potential and perhaps extraordinary humanity. Looked at impatiently and with hostility, art seemed like superfluous decor here, because—as though we know all the horrors of the Yugoslavia war by heart— for two and a half decades now we have been feverishly reciting hundreds of names, both those of victims and of perpetrators; how people died but did not have to, and how it all was but did not have to be. We bicker and shout at friends and opponents alike, almost blind with our endless recounting of the horrors of Vukovar and Sarajevo, of the Storm, or of the refugee column near Kosovska Mitrovica, so that we are ready to die again if need be, proving only how deeply unhappy we are about all that happened, which we could not or did not want to prevent, and for which we cannot forgive ourselves or others. And so, to these people who have been swallowing fear and despair for so many years, a session entitled Using Facts in Art could have sounded like an act of brazen insensitivity or some intellectual affectation. But that would have been the case had we been talking about comedy or humorous soap opera, or theorizing theater that morning. But that morning we were dealing with performances that spoke of past wars. The only "humour" there was perhaps black humour, also known as "laughing under the gallows"—the kind of humour that prevents people from going mad before the horror, similar to that of the artists who use irony and contempt for those facts that were about to devour us at the time of the war.
There was a screening of an introductory video with segments of six theatre plays that dealt with the war in Yugoslavia and the facts surrounding it. One segment, from the play Hypermnesia, directed by the Sarajevo director Selma Spahic, was especially "funny", because it showed crazed residents of a Sarajevo skyscraper whom a soldier at the border orders into lines by nationality and then asks to sign a document confirming that they are voluntarily leaving their property…
When you look at the whole video, you can for example see the young men who play themselves (The 91-95 Generation , by Montazstroj Zagreb, directed by Borut Separovic), whom their parents or society wanted to push into the war through their poisonous ideologies of hatred. You can also see Kosovo society (Patriotic Hypermarket, co-produced by Novi Sad, Pristina and Belgrade) in which both Serbs and Albanians acknowledge that "both are shit" and that too much suffering had been inflicted by stupidity, corruption, and primitivism. You can see a segment from Aleksandra Zec (HKD Rijeka, directed by Oliver Frljic), recounting a real event – the murder of young Aleksandra Zec, and her father and mother, and the guilt and responsibility that have burdened the conscience of Croatian society… We saw a theatre report of the Srebrenica survivors (The Potocari Party, directed by Stevan Bodroz, produced by Vienna's Nestroyhof Hamakom Theatre), as well as a report on the death of the Erased in Slovenia… In fact, that whole theatrical travelogue, scene by scene, looked darkly surreal, like a bad dream, asking Is it possible?, as if it had never happened to us, as if it had all turned into a grinning festival of insanity in which human beings were forced to be where they would not want to be, while some other people were forced to do things that only a moment before they would swear never to do. I think that on that Sunday morning we were all aware of human responsibility, but also of the spiral action of evil and its metaphysical proportions.
Directors Dino Mustafic, Andrej Nosov and Stevan Bodroza were the panellists, together with actors Alban Ukaj and Maja Izetbegovic, the director of the Bosnian National Theatre in Zenica Hazim Begagic, and playwright Amir Basovic. They all spoke about their experiences in making these and similar performances, of heavy experiences of war, and of the facts of death and destruction. And yet somehow we all felt that the important thing was that they were present, that they were testifying before the victims and the people shrouded in pain and bad memories. In this way, on that morning, there crystallized an awareness of the dignity and courage of a generation of artists formed from the sufferings and frustrations of the break-up of a beautiful country, in the blood and screams of the killed and displaced. Other generations over the past 25 years have not responded, or have spewed chauvinist ideology and incitement to war. The seven panellists did not speak from the position of any ideology, but only with the simple human emotion expressed in a hand offered for a handshake, in comfort and understanding. And there were people in the room and at the table who were "on opposing sides" in the wars. From the beginning it was clear that it would not be easy to deal with either side, but the honesty of the approach eased the tensions — the wars of the 1990s were, in part, the consequence of earlier failures todeal with the problems, and of the persistent tribal silence of the righteous in the region, who all died with their own pride and their own little truth.
For me personally, the meeting that Sunday morning offered the possibility of human forgiveness: I truly want to believe that it did take place in some hearts.
The author is a Zagreb theatre critic