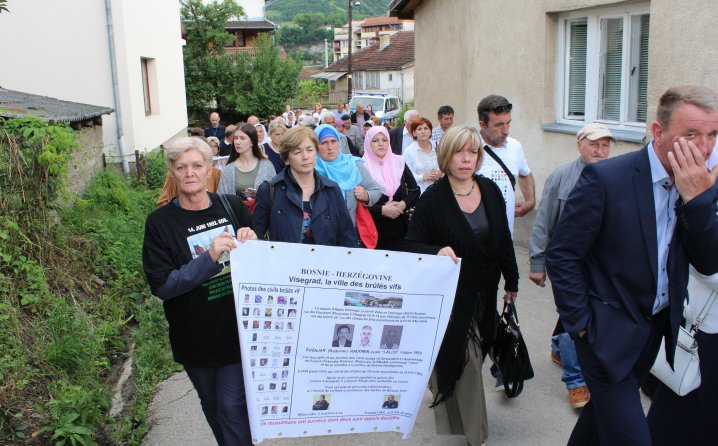 57601cf1-9408-44f5-a48d-08860a0a0a64-hasecic-i-bodonyi-u-protestnoj-setnji-718x446
16.06.2016.
Marking of 24 Years since the Crime in Pionirska Street
"The flames were licking the ceiling, the fire spread to the clothes, the people were crying and screaming," said the protected witness VG 13, who testified in The Hague in the case of Pionirska Street in 2001.
Then the two prisoners jumped out the window of the burning house, and after them the witness's son did the same. While Mitar Vasiljevic was lighting the space around the house and Milan Lukic shooting after fugitives, witness VG 13 jumped through one of the windows as well.
"I decided that I'd rather to be killed, than burned alive," she said.
During the escape, she was hit in the left shoulder, while she received a gunshot wound in the area of the left knee earlier in the house itself. However, she managed to escape down the nearby stream and hid on the 50 meters from the crime scene. At this place, in the water, she sat for two hours, watching the live flames and listening to the screams of the victims. The last thing she heard were the words of a ten-year old girl Halida Kurspahic: "Mom, do not let me."
During the next three days, VG 13 was hiding in a nearby sewer. The wounds on her left arm and leg were completely covered with warms. However, she managed to reach the village of Kosovo Polje, where she received improvised aid.
The youngest victim was only two days old. She was burned alive in her mother's arms. Together with another 70 Bosniaks from Visegrad, they were detained in the house of the late Adem Omeragic, which is now owned by his daughter Sumbula Zeba, in Pionirska Street in Visegrad, where they were burned alive. Today, 24 years after this terrifying crime in Pionirska Street, members of the families of the victims and some of the survivors will gather in order to pay the tribute to the innocent victims.
With the protest walk to the house called 'living pyre', they will express their dissatisfaction with the fact that criminals, and many other citizens of Visegrad, their former Serb neighbors, do not want to say where are the bones of victims to their families, in order to bury them 24 years later. In the place where a total of 72 Bosniaks (babies, children, women, men, and elderly) were burned alive, will be laid flowers and recited Fatiha.
For the crime in the Pionirska Street, Milan Lukic was sentences to life imprisonment with the second instance verdict in The Hague Tribunal, and Sredoje Lukic to 27 years in prison. Bakira Hasecic, the President of the "Women Victims of War" expressed the hope that another criminal responsible for "living pyre' Radomir Susnjar, will be finally extradited from France to BiH to be trialed.