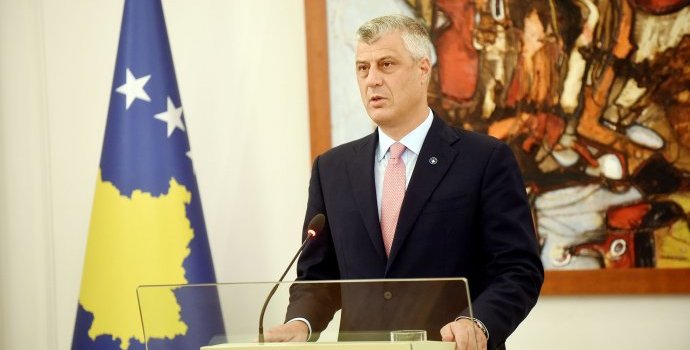 690_350_10_10_2016_852826_p_04
President Hashim Thaci said he paid tribute at memorials to Serb war victims as a gesture of reconciliation and was not insulting Kosovo Albanians' struggle for liberation during the 1990s conflict.
President Hashim Thaci told parliament on Friday that he visited memorials to Serbs killed during and after the 1999 war in recent months to send a message of reconciliation, and rejected claims that he was denigrating the Kosovo Liberation Army's struggle.
"It was said that the values of the Kosovo people's war for freedom were being undermined, that the martyrs and the holy war of the KLA were being insulted," Thaci told MPs.
Thaci was criticised by Kosovo Albanians after his visit to a memorial to Serbs who were killed 17 years ago in Staro Gracko/Gracke, on which it was written that the victims were murdered by "Albanian terrorists".
"I knew what was written on those memorials in the Cyrillic alphabet. I do not agree with that text because it is prejudiced and a lie. But this should not stop us honouring the victims," said Thaci.
"I am convinced that I was doing the best for the country," he added.
A few weeks after Thaci visited the memorial in Staro Gracko/Gracke, unknown vandals targeted it with threatening graffiti, writing the Albanian word "Hakmarrja" ("Revenge").
Thaci also visited a Serb memorial in Hoqa e Madhe/Velika Hoca this month.
During his address to parliament, Thaci also said that the new Hague-based Special Court which is expected to file its first indictments against former KLA officers next year was not set up because of poor political decisions in Kosovo, but because domestic courts failed to protect witnesses in war crimes cases.
"International pressure to establish the Special Court came as a result of bad experiences of protecting witnesses, threats [against them] or their murder. This is the main argument on which we could not challenge the international community," he said.
(Published on BalkanInsight 23. 12. 2016.)