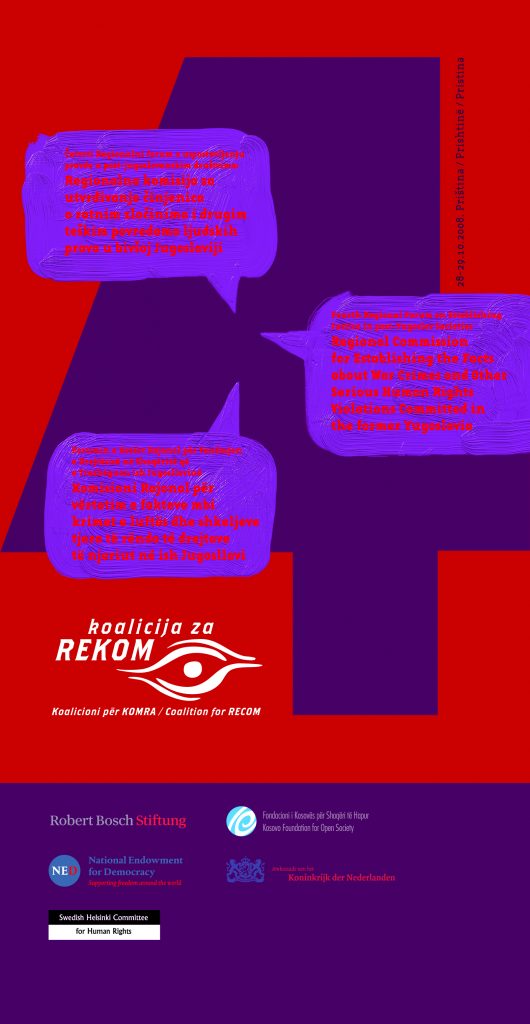 Reg_forumIV
28.10.2008.
IV Regional Forum on Transitional Justice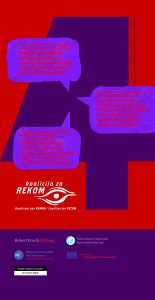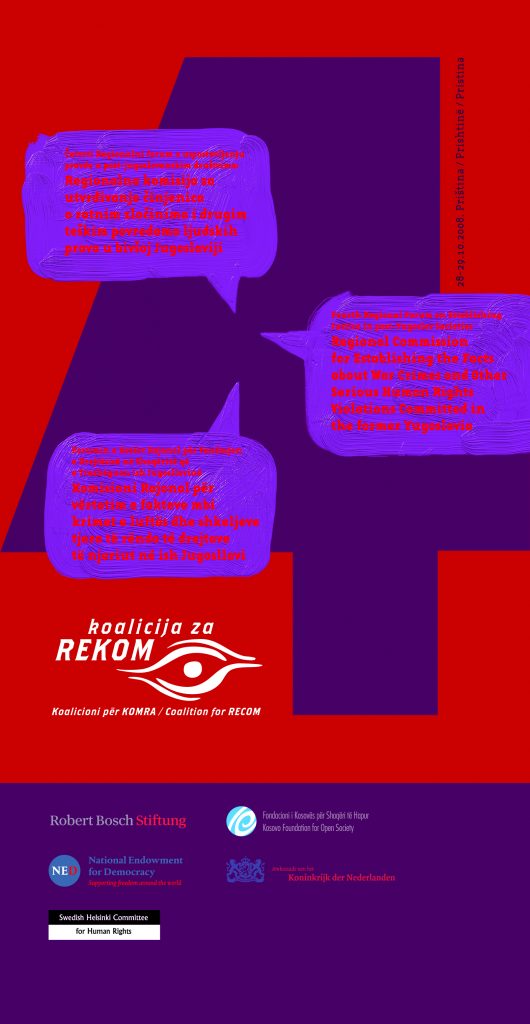 Regional Commission for Establishing the Facts about War Crimes and Other Serious Human Rights Violations Committed in the former Yugoslavia
Prishtinë/Priština
October 28th – 29th 2008
The Fourth Regional Forum on Transitional Justice was the largest ever forum on mechanisms for establishing facts about war crimes organized on the territory of the former Yugoslavia. It was organized by the Humanitarian Law Center (Serbia), Documenta (Croatia), the Research and Documentation Center (BiH), Shpresimi Association (Kosovo) and Community Building Mitrovica (Kosovo). Kosovo President Fatmir Sejdiu, the deputy head of EULEX Roy Reeve, and other senior officials opened the gathering.
Most of the 325 participants from Kosovo, Croatia, Serbia, BiH, Montenegro, Slovenia, and Macedonia were victims and representatives of associations of victims (over 200), about 100 young people, representatives of different youth organizations and high school students who are not members of any youth organizations and over a 100 human rights activists and members of various non-governmental organizations from the region. Several judges and prosecutors from BiH and Kosovo also participated in the Forum, along with 20 representatives of the Association of the families of the kidnapped, killed, and missing police officers in Kosovo, while other associations of victims from Serbia and Republika Srpska boycotted the Forum in protest at Kosovo's declaration of independence.
The Coalition for RECOM was established at this forum. The Coalition was tasked with conducting a debate on the mandate, objectives and other elements of RECOM. In this way, the initiative for the establishment of the Regional Commission became the property of the Coalition for RECOM, while HLC and Documenta assumed the role of administrative and technical support during the consultative process. After the Fourth Regional Forum for Transitional Justice, IDC stepped down from the Coordination Council and withdrew from further engagement and advocacy for the Initiative on the establishment of the Regional Commission.
The following media reported on the Forum: Beta, Danas, Politika, Koha Ditore, Zeri, Novi list, Slobodna Bosna, Republika, Tolerancija, BIRN, RTK 1 (Info), RTK 1 (News), Radio Free Europe, B92, etc.
Recommendations of participants
Howard Varney: Transitional Justice in East Timor
The video is available in BCS languages.