vukovar
20.11.2015.
50,000 Croatians Commemorate Fall of Vukovar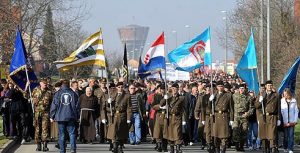 Around 50,000 people from all over Croatia and abroad gathered to commemorate the 24th anniversary of the fall of the town of Vukovar to Yugoslav troops and Serb paramilitaries.
Sven Milekić, BIRN, Vukovar
Croatia's entire political leadership joined large crowds paying tribute on Wednesday to those who died when the town of Vukovar in eastern Croatia was seized after a three-month siege in 1991.
The commemoration started in front of the hospital near the centre of Vukovar, a symbolic place where the last defenders of the town surrendered; 190 of them were later killed and buried in a mass grave in nearby Ovcara.
Politicians, religious leaders, victims' families, war veterans and ordinary Croatians stood for the national anthem and listened to recitals of patriotic texts and folk songs.
They then walked in a long column along a 5.5-kilometre route to the memorial cemetery outside town, where all those killed in the siege of Vukovar are buried, led by veterans and families of those who were killed or went missing. Over 3,000 civilians and soldiers died, 86 of them children.
"Vukovar deserves such a dignified commemoration of its tragedy, to remember all those killed, missing and dead, and for the survivors to pass by in this column of remembrance," said Croatian war veterans minister Predrag Matic.
At the cemetery, President Kolinda Grabar Kitarovic and Prime Minister Zoran Milanovic were among those who laid wreaths and lit candles in memory of those who died in Vukovar and during the entire 1991-95 war in Croatia.
A woman called Ruzica told BIRN that she attended the commemoration as a representative of the association of victims' relatives from the town of Metkovic in southern Croatia. She said she lost her son on the frontline in the Dubrovnik region in May 1992.
"I feel sad and in pain, but also proud that I could come and talk to these mothers [from Vukovar] and comfort these mothers who lost their sons," she said.
Besieged from late August 1991 by Yugoslav People's Army and Serb paramilitaries, the defenders of Vukovar surrendered on November 18, after which all the non-Serb population was expelled from the town, and a number of prisoners of war and civilians were deported to prisons and detention camps in Serbia.
After a being under the control of rebel Croatian Serbs for four years, Vukovar was peacefully reintegrated into Croatia under the Erdut peace agreement in 1996 and 1997.
The International Criminal Tribunal for the Former Yugoslavia convicted two Yugoslav People's Army officers of wartime crimes in Vukovar – colonel Mile Mrksic, who was sentenced to 20 years, and major Veselin Sljivancanin, who was jailed for 10 years. Mrksic died this year.
According to the UN-backed court's verdict, Mrksic decided to withdraw Yugoslav People's Army officers and soldiers who were guarding prisoners of war in Ovcara on November 20, 1991, enabling Territorial Defence and paramilitary forces to commit numerous murders.
The verdict said that Sljivancanin, "despite being responsible for the security of prisoners of war and having visited Ovcara at a time when they were being mistreated, did nothing to stop the beatings or to prevent their continuation".
Serbian courts have also convicted 16 people, mostly paramilitaries, of being responsible for the killings in Ovcara.