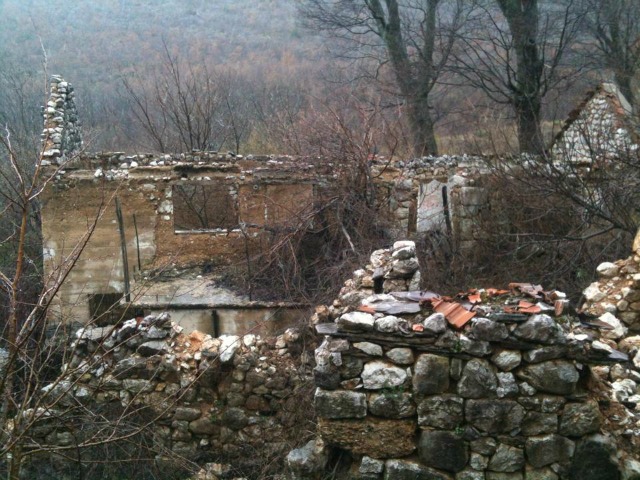 An NGO's criminal complaint accusing unknown perpetrators of committing war crimes during the Croatian military's Operation Storm, whose 22nd anniversary is marked this weekend, highlights the lack of prosecutions so far.
Zagreb-based NGO Documenta – Centre for Dealing with the Past filed a criminal complaint to the Croatian state attorney's office on Friday over war crimes committed during and after the victorious military Operation Storm in August 1995.
Documenta filed the complaint against unknown direct perpetrators who shot and killed ten mostly elderly Serb civilians in the village of Uzdolje and the surrounding hamlets, near the Croatian town of Knin.
While researching human losses during Croatia's 1990s war, Documenta's researchers talked to witnesses who told them about the killings there on August 6, 1995. On August 5 and 8, soldiers also burned houses in these villages, Documenta was told.
According to witnesses who gave statements to Documenta, one Croatian soldier opened fire in Uzdolje, killing Milica Sare, Stevo Beric, Janja Beric, Djudjija Beric, Krsto Sare, Milos Cosic and Jandrija Sara, who were all between 62 and 79 years of age.
Soldiers also killed 73-year-old Sava Sare on her porch afterwards.
In the nearby hamlet of Vrbnik, unknown Croatian soldiers also killed 61- or 62-year-old Lazo Damjanic and 28-year-old Predrag Zaric.
Before this, Zaric was allegedly imprisoned by rebel Serbs in Knin for a while after he refused to serve in their armed forces. He is said to have had a certificate proving he that refused to fight for the rebel Serb authorities, but he was killed anyway.
"We're filing this against unknown perpetrators, although witnesses detected some things in their statements. Three [perpetrators] have been identified who were wearing uniforms and were in direct contact with their superiors from certain units of the Croatian Army," Eugen Jakovcic from Documenta told BIRN.
Jakovcic explained that Documenta's aim was to show that "facts [about crimes] exist" that only need to be processed by the legal authorities.
Responding to questions from media about Documenta's criminal complaint, Prime Minister Andrej Plenkovic said on Friday: "Croatia is a democratic state, a state in which freedom of speech for all NGOs exists."
The prosecution at the International Criminal Tribunal for the Former Yugoslavia included seven Serb civilians who were shot in Uzdolje in its case against Croatian generals Ante Gotovina, Mladen Markac and Ivan Cermak. The trial chamber acquitted Cermak in April 2011 and the appeals chamber acquitted Gotovina and Markac in November 2012.
The Croatian Helsinki Committee for Human Rights has accounted for 677 victims of Operation Storm.
But the state attorney's office said in 2012 that there were 27 war crimes committed against 167 people. Of this number, unknown perpetrators committed 24 of the crimes, involving 155 victims.
Responding to BIRN's inquiry about the possibility that those numbers could now be higher, the state attorney's office said that due to the "ongoing development of the informatics system" used for its war crimes data, it "cannot give precise information on the number of war crimes committed by unknown perpetrators".
Regarding crimes committed by known perpetrators, it stated that a total of five investigations against 11 perpetrators have been launched, along with four indictments against seven persons.
In the Gotovina case, the Hague Tribunal concluded that Operation Storm caused the deaths of 44 civilian victims.
Meanwhile the Croatian judiciary has prosecuted only a fraction of war crimes committed during and after Storm.
In May 2014, the Supreme Court in Zagreb issued the only conviction for war crimes committed by Croatian forces during the operation.
Bozo Bacelic, a former platoon commander in the reconnaissance company of the 113th brigade of Croatian Army, was sentenced to seven years for killing a couple, Nikola and Milica Damjanic, aged 76 and 74, on August 11, 1995, in front of their house on Lake Prokljan.
The Supreme Court also found him guilty of killing a captured Serb soldier, Vuk Mandic, in the hamlet of Mandici, some 40 kilometres from Prokljan, on August 9 or 10.
Bacelic initially ordered his subordinates – Ante Mamic, Luka Vuko and Jurica Ravlic – to shoot the Damjanics, but they did not, so he shot them himself.
After two retrials, the Supreme Court acquitted Mamic, Vuko and Ravlic in March 2016, while earlier courts established that the fact that they helped the killer had fallen under the statute of limitations.
There are still two ongoing cases for Storm crimes before Croatian courts.
Rajko Krickovic, a former member of the 118th home guard regiment of the Croatian Army, is being tried for shooting a brother and sister, 43-year-old Radomir Sovilj and 45-year-old Mira Sovilj, and setting their house on fire with their 73-year-old mother Mara Sovilj inside.
The crime was committed between August 15 and 28 in the village of Kijani, near Gracac in the central Lika region, which was also where Krickovic was born.
Allegedly Krickovic committed the crimes to revenge several of his comrades who died in Operation Storm.
The trial started at Rijeka county court in January this year, and Krickovic pleaded not guilty.
The other ongoing Storm trial, for crimes committed in the village of Grubori in the Knin area, is a long-running process which started in 2011.
Three former members of the 'Lucko' anti-terrorist unit from Zagreb – Frano Drljo, Bozo Krajina and Igor Beneta – were indicted back in December 2010. Beneta went into hiding, and the media reported his alleged suicide in November 2011, while the court continued the trial of Drljo and Krajina.
The killings happened amid an 'anti-terrorist' operation in the area involving 560 special policemen, just after Storm, aiming to secure the passage of a 'Freedom Train' carrying President Franjo Tudjman from Zagreb to Split via Knin.
The men are accused of killing six mostly elderly Serb civilians – Milica Grubor, Marija Grubor, Jovo Grubor, Jovan Grubor, Milos Grubor and Djuro Karanovic – in their beds in Grubori on August 25, and then torching the hamlet afterwards.
Zagreb county court acquitted Drljo and Krajina in June 2014, although judge Zdravko Majerovic concluded that "it is indisputable that six elderly people were killed and that these killings were committed by members of the 'Lucko' anti-terrorist unit".
However, the Supreme Court quashed the first-instance verdict in December 2015, claiming that some Drlja's statements were "contradictory", and insisting that former unit members – most of who claimed that they did not recall the operation – must testify again. The Supreme Court also insisted that another judge at Zagreb county court takes the case.
Zagreb county court judge Ivan Turudic acquitted Drljo and Krajina again in February 2016, saying that "the only fact is that a terrible crime was committed… a bestial crime committed against civilians".
The state attorney's office filed an appeal, but the Supreme Court has not yet scheduled any hearings in the case.
In a case connected to the Grubori violence, Zeljko Sacic, the deputy commander of the Croatian special police headquarters at the time, was indicted in January 2015 for not monitoring, sanctioning and reporting on the war crimes committed by the 'Lucko' unit.
The state attorney's office also accused him of banning police from searching for evidence in the area, and thus interfering with the criminal investigation.
According to the indictment, he filed a false report to his senior commander, which said that the unit had encountered an armed group of around eight to ten enemy soldiers, with the consequence that one of them was killed and four civilians died as 'collateral damage'.
Along with Sacic, Drljo was accused, as a group commander within the Lucko unit, of participating in the burning of a number of houses in the village the Ramljani, on the road from Knin to the town of Drnis.
But in February 2015, the state attorney's office withdrew its indictment, saying that it had "significant shortcomings", and later dropped the case.
However, some have claimed that Croatia's lack of war crimes verdicts is somewhat compensated by that fact that the country's courts have convicted people of committing murder and other crimes during the conflict.
The state attorney's office told BIRN that it had initiated several thousand criminal cases after Operation Storm.
It said that it launched criminal procedures against 3,728 people for murder, violence, sexual crimes, theft and destruction of property.
Of these, 2,380 people were convicted.
A total of 14 people – ten of them soldiers – were convicted of murder, although not of committing a war crime.
Gotovina's lawyer Luka Misetic has argued however that the murder defendants received prison sentences similar in length to the ones they would have got for war crimes.
( Published on Balkan Insight, 04.08.2017. )