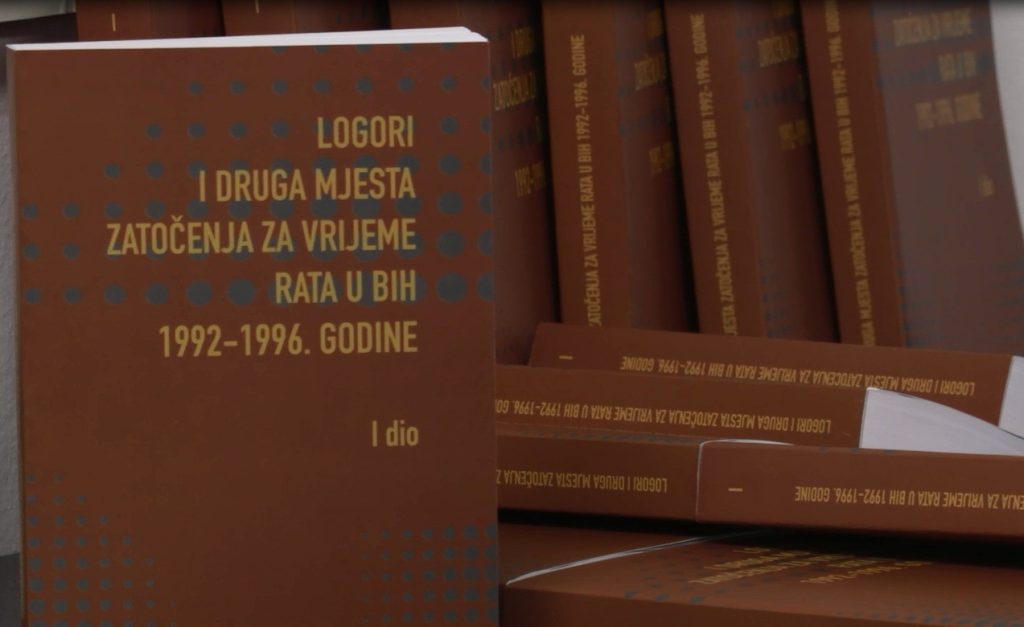 Before you is a book from the series of publications on detention sites in Bosnia and Herzegovina, between early 1992 and April 1996.
According to information from multiple sources, including the records of the associations of detainees, publications, books and media reports, between 1992 and mid-1996 there were around 1,500 camps and other detention sites, which existed for 24 hours to several years. This book describes 322 camps and other detention sites in 15 municipalities, where more than 15,000 men, women, children, elderly, sick and wounded persons were held. A hundred and twenty seven detention sites are presented based on judgements of the International Criminal Tribunal for the former Yugoslavia, the Duesseldorf Higher Regional Court, the Supreme Court of Norway, courts in Croatia, the Court of BH, cantonal courts in BH, and the Higher Court in Belgrade, while the other 195 cases are based on 524 statements by former detainees, 78 media reports, 57 publications, 42 books, and several dozen reports by international and regional human rights organizations.
The court-established facts and data collected through fieldwork show that during the war in BH, the parties to the conflict detained greater numbers of civilians than combatants: men and women, intellectuals, political party members, pre-war employees of state institutions were arrested in cities, houses, apartments, at their jobs, in the streets and shelters; villagers were captured in the forests where they sought shelter, from where they were taken to villages controlled by the military, which imprisoned them, and they were used in exchanges for captured troops and slain combatants. They were detained at pre-war prisons, detention cells, public security station offices, the Secretariat of the Interior, the Territorial Defence, the Yugoslav Army barracks, hangars, shelters, hotels, motels, department stores, furniture stores, restaurants, factories, bus stations, garages, transport wagons, military social centres, military tents, plant nurseries, curing chambers, dugouts, primary schools, high schools, secondary education centres, sports halls, cultural centres, universities, student dormitories, healthcare centres, hospitals, military infirmaries, football and handball stadiums, morgues at the Sutina town cemetery, night clubs, the Coal Mine (Stanari), cooperative centres, pastry shops, private homes, cellars, stables, yards, villages (Ševarlije, Gornji Pridjel, Sjenina in Doboj), sheds, and other spaces and buildings that did not meet the minimal conditions for the holding detained persons or prisoners of war.
On orders from their superiors, the guards would take out the detained men to collect human corpses, dig graves and bury bodies, dig trenches and connecting trenches, often under fire, clear battle positions, remove possessions, roofs and carpentry from abandoned houses. They were used as human shields and forced to donate blood.
The girls and young women were removed from the detention sites and raped, sexually assaulted and physically abused by groups of men.
At Hotel Una in Bosanski Novi, a military police officer forced detainees to eat a page of the Ilmihal Islamic book, "so that they would memorize it better". At the Partizan Sports Hall in Brčko, the guards ordered a man over the age of 70 to read and sing a Chetnik song. "He said that he couldn't see without glasses. They shouted 'Balija, you can't read Cyrillic!' He said 'I know, I'm old, I can't see without glasses'. They put sunglasses on him, laughed and demanded that he read. They kicked him and he fell down." At the Luka camp in Brčko, Monika Karan-Ilić, Goran Jelisić and others beat up a detainee, and then Monika hit him in the head with the hose from a fire extinguisher saying 'watch him go down from my blow', and then he was ordered to get up and they continued beating him, until Monika brought a bottle of hydrochloric acid and ordered him to wash his face with it. At the Faculty of Law in Mostar they forced one of the detainees to strip naked, then they beat him with truncheons and rubber mallets. They doused him with water several times. After interrogating him, they hung him by handcuffs from nails on a wall. He remained there all night, and at around four o'clock in the morning they beat him again. Detainee D. P., who was held at one of the rooms in the morgue at the Sutina town cemetery in Mostar, was beaten with metal bars and chair legs, they inserted a knife under his fingernails and into his fingers, burned him with a heated knife. The guards forced prisoners to grab electrified wires barehanded, then to hold hand in order to create a circle, after which they would pour water on the floor of the church, beneath their feet, to improve conductivity. There were guards who pulled detainee's healthy teeth with their bare hands. They would tie them to radiators, break their arms and legs, twist their genitalia, force them to ingest large quantities of salt. One detainee was forced to eat goat droppings, over which the guard had poured human urine. A guard removed another detainee's surgical drain from his wound and forced him to drink the liquid. They beat detainees with crucifixes, candlesticks, statues and paintings of saints, on their heads and other parts of their bodies, forcing them to eat pages of the Bible and other religious books, to sing songs, placing on their heads paintings of the Stations of the Cross.
Information also indicates that at least a hundred detainees were beaten or shot to death at the camps and other detention sites. At least twenty people were killed while performing forced labour, especially at the front line.
Thanks to the trials before the ICTY and domestic courts, the majority of the murders have been solved, but the mortal remains of at least twenty more slain detainees have not been located. The Transitional Justice, Accountability and Memory (TPOS) association and the Centre for Democracy and Transitional Justice (CDTP) owe a special debt of gratitude to the local associations of detainees who have helped investigators get in touch with former detainees and the families of  victims.
The publication was created with the financial support of the European Union, the National Endowment for Democracy, the Rockefeller Brothers Fund, and  Civil Rights Defenders. Its content is the sole responsibility of the Transitional Justice, Accountability and Memory in Bosnia and Herzegovina association, and the Centre for Democracy and Transitional Justice, and does not necessarily reflect the views of the European Union, the National Endowment for Democracy, the Rockefeller Brothers Fund, or the Civil Rights Defenders.