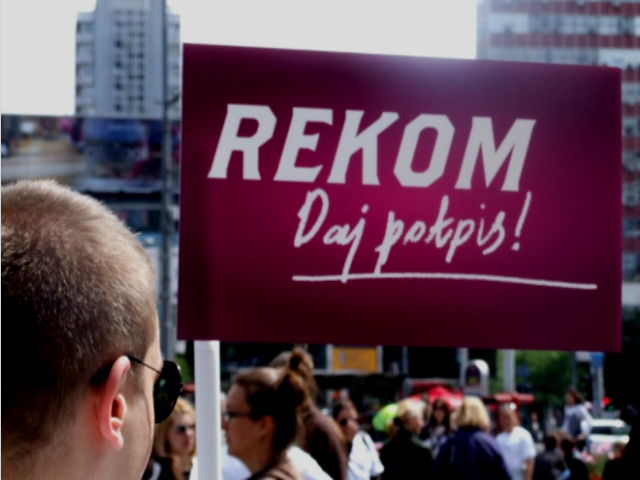 rekom-photo-rekom-640x480
A coalition of NGOs advocating the establishment of the RECOM regional truth commission to establish the facts about the 1990s wars is relaunching its campaign across the Balkans.
A RECOM campaigner gathering signatures. Photo: RECOM website
The Coalition for RECOM will gather signatures of support for the regional commission on Saturday in Belgrade's Republic Square as it aims to get Balkan leaders to commit to address the issue of dealing with the wartime past.
Campaigners will be also collecting signatures until May 24 in cities in all the former Yugoslav countries, apart from in Macedonia, because of the ongoing political crisis there.
"We realised that there is no longer any understanding of or attention paid to dealing with the past [in the Balkans], and this issue, which is very important for the future of this region, is being swept under the rug," Anita Mitic, director of the NGO Youth Initiative for Human Rights, which is part of the Coalition for RECOM, told BIRN.
Mitic said this was why the Humanitarian Law Centre, the Coalition for RECOM and the Youth Initiative for Human Rights decided to relaunch the process of gathering signatures of support in a bid to put the importance of forming such a commission on the political agenda.
They want to convince the leaders of ex-Yugoslav states and European Union representatives to sign an agreement that will oblige them to establish the commission.
They have also said that they will urge Western Balkan leaders at their summit in Trieste in July to take the necessary steps to set up RECOM.
The regional commission is intended to determine the facts about war crimes and human rights violations committed in the former Yugoslavia from 1991 to 2001.
The Coalition for RECOM was founded in 2008 and its first campaign for gathering signatures was launched in 2011.
Signings were organised in all the capital cities of the republics of former Yugoslavia and online.
The Coalition for RECOM set out to get one million signatures of support and have so far got around 600,000.
Human rights advocates have warned in recent months that the post-war transitional justice process in the region has stalled.
"The right to knowledge about what happened in the past has been totally abandoned," Natasa Kandic, the founder of the Humanitarian Law Centre NGO, told a press conference in Belgrade in March.
( Published on BalkanInsight, 11. 05. 2017. )