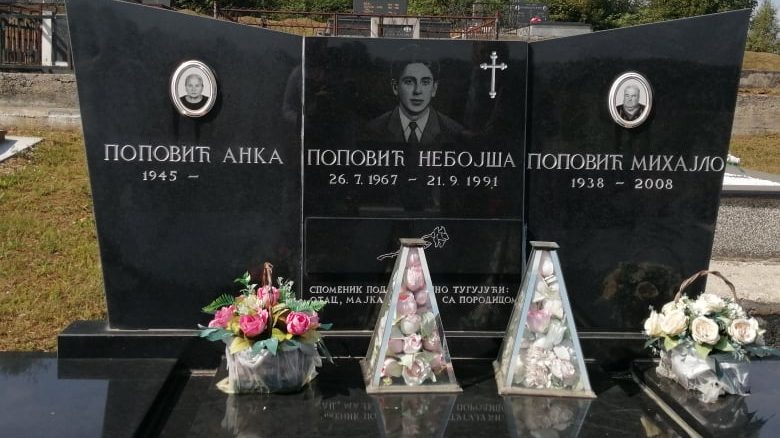 BIRN_Nebojsa-Popovic_Grobnica_Aneta-Vladimirov
A commemoration was held in the Croatian town of Karlovac to commemorate 13 Yugoslav People's Army soldiers killed in 1991 by a Croatian policeman and highlight how the war harmed both Serbs and Croats.
The Serbian National Council, which advocates for Croatia's Serb minority, together with the relatives of the victims and anti-war activists gathered on Monday in the Croatian town of Karlovac to commemorate 13 captured Yugoslav People's Army troops who were killed in 1991 by a Croatian policeman.
They said they were commemorating the soldiers' deaths while also "condemning the fear and suffering that the town of Karlovac and everyone in it had to endure during the shelling" by the Yugoslav People's Army in 1991.
They also said they were condemning "warmongering, mobilisation and the demonisation of those who refused to take up arms" as well as the "inhumane execution of unarmed prisoners".
The commemoration was held at Karlovac Orthodox Church and at local cemeteries after the Serbian National Council reported that commemoration at the scene of the crime, a bridge in Karlovac, "was not possible this year".
Damir Mandic, the mayor of Karlovac, wrote on Facebook that he thought that the commemorative event should not be held on the bridge because it "serves as an attempt to deny the Greater Serbia policy [of Yugoslav leader Slobodan Milosevic], which led to the suffering of the Yugoslav People's Army reservists".
Karlovac was on the frontline during the Croatian war for independence in 1991 and suffered serious damage.
The Serbian National Council insisted however that the commemoration is anti-war and intended to condemn the warmongering policies "which ultimately led to the suffering not only of civilians on all sides and but also of recruited soldiers who, until the outbreak of the war, led their lives in peace with their neighbours".
"The nationalist policy which governed the lives of the mobilised reservists, and which led them to the bridge on the Korana [river] on that fateful day, was very harmful and disastrous for both the Croatian and Serbian people," the Serbian National Council said.
In 2015, the Croatian Supreme Court upheld the conviction of former Croatian policeman Mihajlo Hrastov for killing 13 Yugoslav People's Army reservists and wounding two others in September 1991.
The case, which was not classified as a war crime but as "the unlawful killing and wounding of enemies", started in March 1992 and involved six trials.
The court concluded in 2012 that Hrastov killed the soldiers after they surrendered.
"There was no self-defence, nor did the prisoners try to escape, so the shooting could not be justified by international laws," said judge Zarko Dundovic.
In December 2016, Hrastov was released from prison 14 months before the end of his four-year sentence.
---
The text Killings of Yugoslav Prisoners of War Commemorated in Croatia was originally published on Balkan Insight/Balkan Transitional Justice