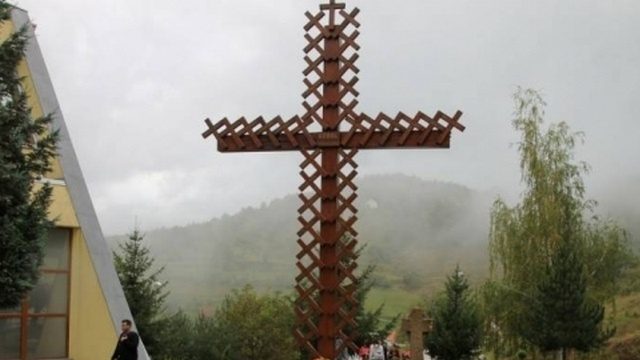 BIRN_Uzdol_Spomenik_e1600090791763_Udruga
A commemoration was held to mark the anniversary of the killings of 29 Bosnian Croat civilians including children and old people, as well as 12 Croatian Defence Council fighters, in the village of Uzdol in September 1993.
Families of people killed 27 years ago in a brutal attack by Bosnian Army troops gathered at the Memorial Centre in Uzdol in the Prozor-Rama municipality on Monday to mark the anniversary of their deaths.
Kazimir Zelenika lost his 12-year-old daughter Jadranka, father and mother, as well as some of his cousins, in the attack on Croats in the village by the Bosniak-led Bosnian Army on September 14, 1993.
"Some houses were left totally empty. Forty-one people killed in one village is a lot," Zelenika told BIRN ahead of the commemoration ceremony.
Uzdol resident Zoran Stojanovic said the victims were women, children and elderly people, some of whom were bedridden.
"A husband and wife were killed in their basement, hugging each other," Stojanovic added.
He said that besides the civilians, 12 members of the Croatian Defence Council, the Bosnian Croat wartime force, were also murdered.
The Bosnian state court last year sentenced Enver Buza, the wartime commander of the Bosnian Army's Independent Prozor Battalion, to 12 years in prison for failing to discipline his subordinates for killing 27 Croat civilians in Uzdol.
The court found that Buza controlled a military unit whose members carried out the attack on Uzdol in the early morning of September 14, 1993 and killed the civilians, the youngest of whom was just ten years old, in a "cruel and brutal manner".
Most of the victims were shot at close range, among them three children.
Buza knew about the crime but "turned a blind eye to the issue of an investigation", the verdict said.
---
The text Bosnian Croats Remember 'Cruel and Brutal' Uzdol Massacre was originally published by Balkan Insight/Balkan Transitional Justice