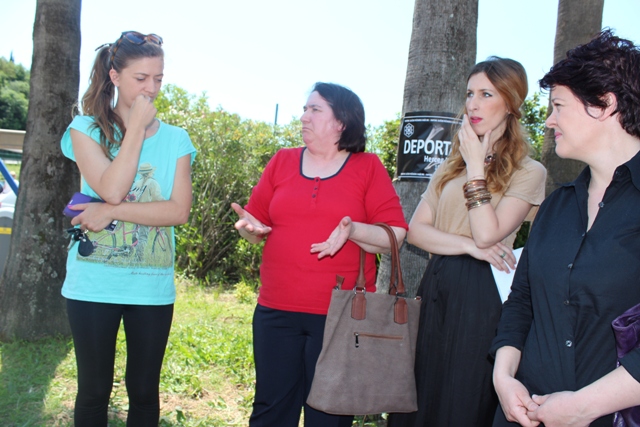 IMG_6339
07.06.2016.
24 years without the justice for war crime "Deportation of Refugees"
Representatives of Centre for Civic Education (CCE), Human Rights Action (HRA) and Centre for Women and Peace Education ANIMA, today laid the flowers before the Security Centre in Herceg Novi. Hence, they paid a tribute to victims and commemorated 24 years since the war crime against the citizens who were fleeing from Bosnia and Herzegovina, better known as "Refugee deportation", occurred on Montenegrin territory. This site was the point from which the majority of citizens were illegally deported to their death in May 1992.
During laying the flowers, Tamara Milaš, CCE Programme associate and spokesperson of Coalition for REKOM for Montenegro, assessed: "The manner in which the Montenegrin judiciary processed this case, undoubtedly illustrated that it still lacks the professional courage to perform the job in line with the law, as well as that the political influence is far too extensive, thus hindering the fact finding and adequate processing of war crimes. Moreover, the case "Deportation of refugees" presents one of the biggest defeats of Montenegrin judiciary system", Milaš concluded.
She urged Montenegrin prosecution to intensify the fight against the impunity of war crimes in line with its Strategy for the investigation of war crimes, through more efficient investigation, prosecution, trial and punishment, all in line with international standards. "We from the CCE, and I can free extent this to all of us from the Coalition for RECOM which we represent in Montenegro, would like to believe that those who took part in crimes that were perpetrated against Muslims and Bosnians in May and June 1992 on Montenegrin territory shall be adequately sanctioned. Justice must be served because of the victims, their families, but also because of the Montenegrin society which should not rest as long as war criminals walk free among us", Milaš underlined.
"CCE and Coalition for RECOM will continue with their efforts to establish the culture of remembrance, as an important mechanism during the process of establishment of transitional justice. Therefore, I call upon the local authorities of Herceg Novi once more to take our initiative into serious consideration and raise a memorial for the victims of refugee deportation from 1992 in front of the premises of Police Department in Herceg Novi, and thus pay a tribute to victims since it is the minimum one could expect from the authorities which seek to create a sustainable future and peace in region", told Milaš.
Mirjana Radović from HRA emphasised: "Also, we from Human Rights Action, Centre for Civic Education and ANIMA, as the families of the victims, must never allow this crime to be forgotten. Some of us were children when official Montenegro shamefully violated the norms of humanity in 1992. Today we know that children of arrested refugees stood here and then and suffered the mockery of the police from Herceg Novi, who contemptuously stood on their way of final goodbyes with their fathers".
"Unfortunately, we commemorate yet another year without a memorial, without an official Day of Remembrance, without a historic apology from Montenegrin police and without a punishment for anyone. We hope that we will see the day when every crime against the victims of deportation of refugees is acknowledged, and when the memorial is raised to commemorate every victim and warn future generations, politicians and police officials", stressed Radović.
As a reminder, non-governmental organisations – Human Rights Action (HRA), Centre for Civic Education (CCE) and Centre for Women and Peace Education ANIMA and president of Council for Civic Control of the Police Work, Aleksandar Saša Zeković, filed three initiatives five years ago as follows:
1. To Ranko Krivokapić, President of Parliament of Montenegro, and every head of MP clubs to declare the 27 May as a Day of Remembrance of victims of crime of deportation of refugee which occurred in 1992;
2. To then Prime Minister of Montenegro Igor Lukšić, Minister of Interior Ivan Brajović and Minister of Culture Branislav Mićunović, as well as to then president of municipal parliament of Herceg Novi Dejan Mandić – to raise a memorial to victims of deportation of refugees from 1992 in front of the premises of Police Department in Herceg Novi, thus supporting the will of families of deported victims;
3. The Montenegrin police to issue an apology due to the illegal acting during the arrest and extradition of refuges to enemy army of Republic of Srpska, B&H.
None of the said initiatives was adopted.
In May 1992, Montenegrin police illegally arrested at least 66 persons, civilians, age 18 to 66, who fled to Montenegro from war in Bosnia and Herzegovina, and handed them over as hostages to an army of Bosnian Serbs so that they could exchange them for war prisoners. All extradited persons in 1992 were murdered immediately, the rest were tortured then murdered in camps, and only a few of them survived the torture. Bodies of some of the victims who were deported from Herceg Novi on that 27 May have still not been found, while the whereabouts of their execution are still unknown.
Victims of this crime are undisputed. After four years of trial, Montenegro paid to their families compensation based on the court settlement on the count of illegal acting of Montenegrin police which led to tragic consequences. Final criminal verdict in Montenegro, as well as the verdict of Hague Tribunal in the case of Krnojelac (camp warden in Foča), proven that they were illegally arrested and extradited as hostages.
On the behalf of CCE, HRA and ANIMA
Svetlana Pešić, Programme associate
Published on CGO, 27. 05. 2016.