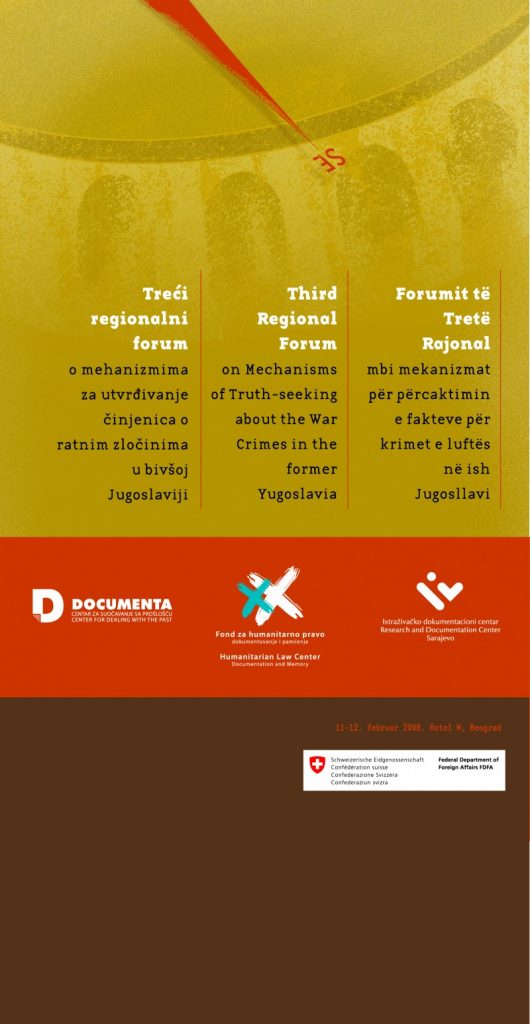 Reg_forumIII
11.02.2008.
III Regional Forum on Transitional Justice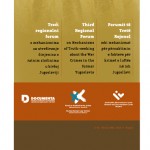 Mechanisms for establishing the facts about war crimes committed on the territory of the former Yugoslavia
Belgrade, Serbia,
February 11th – 12th 2008
The Third Regional Forum on Transitional Justice was organized by Humanitarian Law Center (Serbia), Documenta (Croatia), and Research and Documentation Center (BiH). It was attended by over 300 representatives of associations of victims, victims who are not members of any associations, veterans, human rights organizations activists, representatives of youth organizations, journalists, judges, prosecutors, lawyers, members of parliament, jurists, historians, artists, in addition to high school and college students. The Forum was opened by the Speaker of the National Assembly of the Republic of Serbia Oliver Dulic and the Special Rapporteur of the European Parliament for Serbia Jelko Kacin. Both of them strongly supported the regional approach in the dealing with the past process. The following media reported on the Forum: Politika, Dnevni avaz, SRNA, Tanjug, Danas, Blic, Tribune, INA, RTS, TV FOX, Radio Free Europe, ZaMirZINE.net.
During the Experiences of Others session, Madeleine Fullard, a researcher at the South African Truth   and Reconciliation Commission and Sofia Macher, a commissioner of the Peruvian Truth and Reconciliation Commission spoke about the establishment, work, structure, and the com- position of these commissions as well as the effects they had in the overall process of establishing the facts about the past.
The previous debate on extra-judicial mechanisms was concreted at the Third Regional Forum. Participants begin to talk about the need to create a regional body to establish the facts about war crimes. Forum participants supported the initiative of the HLC, Documenta and the IDC on the establishment of a regional body (regional commission), as well as the proposal that the mandate, activities and objectives of the said body be developed in consultation with civil society.
For the first time a public hearing of the victims was organized, which participants deemed an important activity of the future regional commission in that it can encourage empathy with victims from other ethnic communities.
Madeline Fullard Speech on the Third Regional Forum
Sofia Macher Speech on the Third Regional Forum
The video is available in BCS languages.