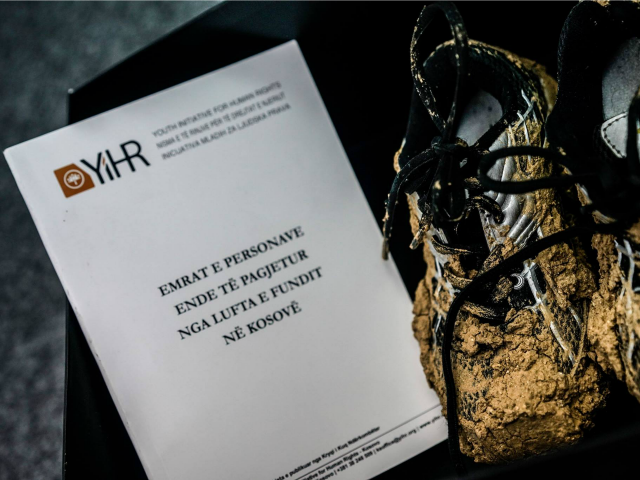 YIHR, missing persons
Kosovo president Hashim Thaci said on Monday that missing persons remain one of the gravest wounds that the war in Kosovo inflicted.
Resolving of the fate of the missing is one of the most urgent tasks facing the country, Thaci said on the eve of the International Day of the Disappeared which is marked on August 30 each year.
"The war has left many wounds, but the one of the missing is one of the most severe," he said in a statement.
The issue "burdens the families of the missing persons but also the whole of society, relations between the communities and the chances of a better future".
Thaci said that Kosovo officials and the general public was reminded about the missing on a daily basis.
"They look at us from the pictures hanging on the fence of the Kosovo Assembly. Families call us. We are being reminded [of them] by the memorials we see on the streets of Kosovo. And, on days like August 30, we commit ourselves to always, without pause, asking and insisting on clear ingup the fate of every citizen of Kosovo as soon as possible, for the families of the missing to find their peace," he explained.
Human rights activists in Kosovo said meanwhile that the government and state institutions need to do more to resolve the fate of those who are still missing, both Albanians and Serbs.
Shoes and a letter sent to Kosovo's prime minister. Photo: YIHR
The Pristina-based Youth Initiative for Human Rights, YIHR, sent a box of shoes symbolising the missing to Kosovo Prime Minister Isa Mustafa on Monday with a letter saying it was "worried about [official] negligence towards missing persons".
"Although 17 years have passed since the war in Kosovo and eight since the declaration of independence, our country didn't set this as a priority, leaving the families of the missing to wander about different grave locations hoping they will hear some news about their loved ones," the YIHR said in the letter.
The YIHR also said that the issue of the missing should be included in Kosovo's ongoing EU-mediated dialogue with Serbia, and that school textbooks should have more substantial and accurate information about what happened during the war.
"Textbooks approved by the government of Kosovo have very little information about these events, while the narratives are exclusionary and don't offer the full picture about events from the past," the YIHR said.
"We don't learn about our peers – Albanians, Serbs, Bosniaks, Roma… who are also still listed as missing," it added.
(Published on BIRN, 29.08.2016.)