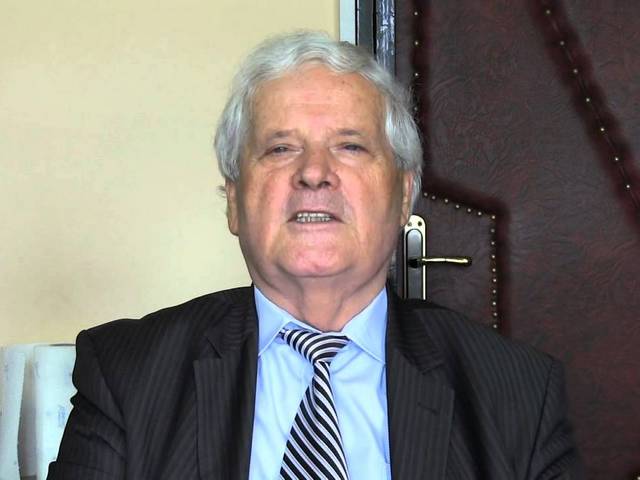 Fikret_Abdic
Nearly 50 candidates for the positions of mayor or municipality chief in next month's Bosnian elections have been convicted of, charged with or investigated for organised crime, corruption or war crimes
Convicted war criminal Fikret Abdic is running for office. Photo: YouTube screeshot.
In the 140 Bosnian municipalities that will elect city mayors and municipality chiefs in the October local elections, candidate lists contain almost 50 individuals who have been accused of being involved criminal activities – ten of whom have been convicted, a BIRN analysis has established.
Most of them have been accused of some form of corruption, while some have been charged with war crimes, and the candidate lists also contain individuals who have been probed over allegations of money laundering, sexual abuse and harassment, threats, violent behaviour and showing disrespect for state-level institutions.
Bosnian electoral law allows people who have been investigated or even convicted to run for office, except for those who have been charged by the UN-backed Yugoslav war crimes court in The Hague.
The Transparency International watchdog group has criticised the legislation, arguing that it is a paradox that people need to produce a document confirming that they have never been convicted when applying for most jobs, but not when running for political office.
Politicians however largely ignore the issue. When BIRN asked all the country's political parties to comment on the situation, the leading ones declined to respond.
Candidates untroubled by convictions
People who are serving jail time handed down by any Bosnian court for war crimes cannot to run for office, but after they are released, even war crimes convicts can legally stand for office.
That means that 76-year-old Fikret Abdic, the former head of a Bosniak separatist statelet who was sentenced to 15 years in prison for war crimes by the Croatian Supreme Court, is free to run as the Labour Party's candidate for the head of the Velika Kladusa municipality in northern Bosnia and Herzegovina.
Before the war, Abdic was an executive at Agrokomerc, one of the most successful agricultural firms in the former Yugoslavia. Because of his success in business, Abdic enjoyed strong backing locally.
During the war, he was a member of the presidency of Bosnia and Herzegovina before founding the Bosniak-led breakaway Autonomous Province of Western Bosnia in 1993.
While leading the breakaway statelet, Abdic fought against fellow Bosniaks who were loyal to the Sarajevo government and set up several prison camps where war crimes were committed against Bosnian Army detainees. He was released from jail in 2012.
Senaid Memic, who was convicted of verbally abusing a judge, is running in the elections. Photo: BIRN/Mario Ilicic.
Meanwhile the leading Bosniak party – the Party for Democratic Action, SDA – is backing Senaid Memic for re-election as the head of the Ilidza municipality near Sarajevo.
Memic was charged with disrupting the work of the judiciary in 2005, because he verbally abused a judge who convicted his son in a separate case. In June 2006, the state court sentenced Memic to four months in prison, which the appeals chamber then reduced to three months.
But he told BIRN that the conviction was being used against him by his opponents even though he was legally free to run for the mayoralty.
"This is the only way they can get rid of me, it is normal that everyone is going against me like this. Everyone against me is scheming. There is nothing in it, but people are always trying to make a problem. Everything is normal and within the law," Memic said.
Among this year's mayoral candidates will also be some politicians who have been convicted of committing crimes while in office.
One of them is Rasim Omerovic, who is running for re-election as an independent candidate for the head of the municipality of Kalesija.
Omerovic was found guilty of abuse of office under a first-instance verdict handed down by the municipal court in the town earlier this year.
He was convicted of illegally hiring employees, given a six-month prison sentence suspended for two years, and removed from his position as municipality chief.
But Omerovic told BIRN that he had not been informed about the verdict by the court, and insisted it was a "political game" aimed at undermining him.
"If an appeals happens, there is a second-instance institution which will decide and I hope that verdict will be in my favour. I hope the appeal happens; this was a political decision, and if there is any justice in this country, I will win in Kalesija," he said.
There are similar examples in Bosnia's Serb-dominated entity Republika Srpska, where the ruling Alliance of Independent Social Democrats, SNSD has backed Miroslav Kraljevic for municipality chief in Vlasenica.
Kraljevic was convicted of kidnapping by the Basic Court in Zvornik and fined around 2,000 euros after signing a plea agreement with the prosecution.
According to the verdict, Kraljevic and the former Vlasenica municipality chief, Branislav Boskovic, kidnapped a city council delegate in September 2010 and held him in Serbia for 12 days.
But Kraljevic told BIRN that this would not stop him being elected.
"There will always be those using things to their advantage. I am personally sure I will win. I cannot guarantee it, but I think this will not affect my candidacy one way or another. The verdict is in the past and I will not speak about it," he said.
Political parties unconcerned
BIRN asked all the country's political parties with mayoral candidates to comment on the current legislation which allows convicts or people under investigation to run for office, but only two relatively minor parties – the Party for Bosnia and Herzegovina, SBiH and the Republika Srpska-based Party for Democratic Progress, PDP – responded by criticising the law.
Central Electoral Commission spokesperson Maksida Piris told BIRN that this year's candidate lists were fully in line with the law.
"Parliament's decision is that all people who have served time can run for office. So if a person has served their time, they can be a candidate," Piris explained.
But Srdjan Blagovcanin, the chairman of the board of Bosnian branch of Transparency International, told BIRN that the legislation should be amended so that candidates are forced to produce a document stating that their records are clean and they are not under investigation.
"I think this situation is allows us to have people with criminal backgrounds, or who are under serious investigation, to reach some of the key posts in this country. That situation is not normal," said Blagovcanin.
He noted that when applying for state jobs, people must produce a certificate stating that they have no criminal record, but candidates for political office have no such responsibility.
"It is far more important to make sure the law covers those who run the state than those applying for regular jobs," he argued.
The local elections will take place on October 2.
(This article has been published on BIRN; 20.09.2016)