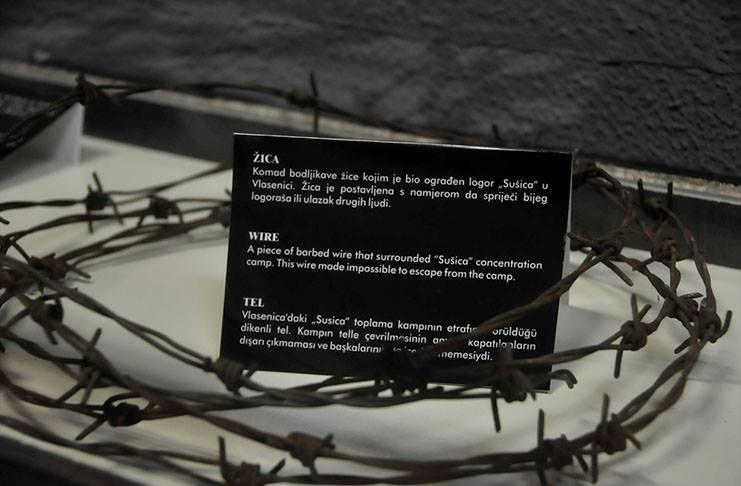 13714333_1798542583715751_1037539911_n
29.07.2016.
Sarajevo received Museum of Crimes against Humanity and Genocide
BiH, Sarajevo
Museum of crimes against humanity and genocide as the first project of "the culture of memories" that in a credible, symbolic and picturesque way shows the extent of the crimes committed and the character of the war in BiH, will be opened to visitors. In the future, the museum aims to become the Research and Documentation Center.
Museum of crimes against humanity and genocide abounds in rich archive material and offers a multidisciplinary approach to the research of events that took place in BiH in the period from 1992 – 1995.
All contents are available for visitors in Bosnian, English and Turkish language.
In one of the rooms is a mark of the infamous 10 Sabotage Unit, which was subordinate to the Main Staff of the Army of Republika Srpska, or directly to commander Ratko Mladic. The fact that only on the 16th of July 1995 at the Branjevo farm and the Cultural Center Pilica they killed between 1,000 and 1,500 men and boys after the fall of "protected zone of Srebrenica" in only few hours, speaks enough about their cruelties.
Members of this unit were validly sentenced to over 100 years in prison.
There is also solitary confinement in the museum, which show all the horrors through which inmates passed.
"Every object has a story, each case is from some part of BiH. It is encouraging that the ICTY gave us the material, their belongings, their testimony. This gives seriousness to everything. Of course, each object has a story of the owner of that case: to see, to feel sweater, to see T-shirt of a child that was carrying it, and dress that old grandma wore once. This is something where every visitor feels the last moments of a person who went through that. This is not a museum of individual fates, this museum is the fate of BiH, "said Jasmin Meskovic, president of the Association of Detainees in BiH.
He stated that it is not only the Museum of inmates, but the solitary confinement in the Museum was made of the elements of solitary confinement that inmates went through.
"You can see the position of inmates, a blanket, and a bucket from which they ate. The blood on the floor. Every human being, an individual who comes to the Museum, can feel all the uncertainty, suffering and torture, through which inmates passed within minutes. In one day visitors can go through the whole history of the fate of BiH in the most difficult moments, and these are the moments from 1992 to 1995," said Meskovic.
(Source: Sarajevo Times, Fokus.ba; 19.07.2016.)