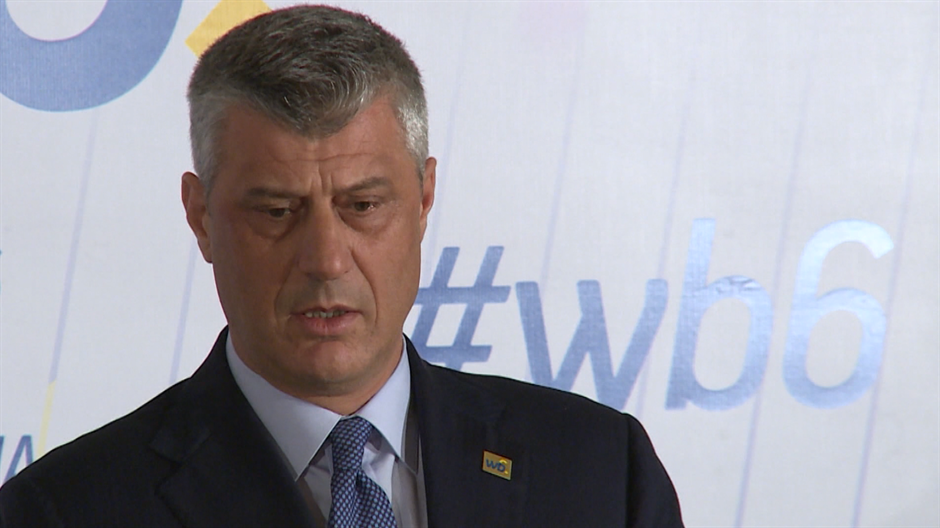 Thaci: Serbia and Kosovo Take Step Toward Reconciliation
BRUSSELS—Serbia and Kosovo, which fought a war in the late 1990s, took another step toward reconciliation Tuesday with a deal that, among other things, will allow Kosovars to have their own country code.
The agreement, brokered by European Union foreign policy chief Federica Mogherini, also grants more rights to Serb communities living in the north of Kosovo, a former province of Serbia.
Kosovo, whose declaration of independence in 2008 hasn't been recognized by Serbia or several EU countries, has been using either Monaco's or Slovenia's country codes for mobile phones.
Serbia's Prime Minister Aleksandar Vucic expressed satisfaction with the agreement after talks in Brussels. He said he was particularly pleased that the association of Serbian communities in Kosovo will be able to receive funding from Belgrade.
Kosovo Foreign Minister Hashim Thaci said that the agreement "is in the interest of Kosovo, its citizens, and the European integration of Kosovo."
Speaking to The Wall Street Journal before the talks, Mr. Thaci said the region, formerly torn by war and ethnic strife, "has never been in a better place in terms of cooperating with each other."
In another step toward reconciliation, Kosovo's parliament this month approved the establishment of a special court to investigate alleged war crimes carried out by the Kosovo Liberation Army, the paramilitary force that led the fight for Kosovar independence.
The establishment of the war crimes court would meet a demand by the EU for improving the rule of law in Kosovo.
Mr. Thaci, the man who transformed the KLA militia into an established political party, said in the interview that he backs this court, even if its mandate is to prosecute some of his former acolytes.
An EU task force last year said there was enough evidence to prosecute senior members of the KLA on charges including unlawful killings, abductions, illegal detention camps, sexual violence and desecration of churches.
It added that there were "compelling indications"—albeit not enough for a trial—that KLA fighters had extracted organs from Serbian prisoners and sold them "on a very limited scale."
Mr. Thaci said he has "nothing to hide" and would cooperate "in any circumstance and any form needed" with the court. He denied any involvement or knowledge of war crimes. "I very much hope that no one will try to rewrite history, to try to draw parallels or equate the genocide perpetrated by Serbia with individual acts of some desperate citizens," Mr. Thaci said.
If the court is established, Kosovo would be the last of the former Yugoslav republics to try war crimes allegedly committed during the 1990s.
Previous attempts to try former leading KLA members at the International Criminal Tribunal for the former Yugoslavia, based in The Hague, ended with acquittals, after the prosecution complained of intimidation of witnesses as well as disappearances and suspicious suicides. Some EU officials were skeptical that the situation would be different for the new court.
Maria Bamieh, a British prosecutor who was part of the EU rule-of-law mission EULEX in Kosovo until last year, said she often got death threats and was warned by Western intelligence officers that someone had tried to put a bomb under her car. "EULEX failed to protect witnesses adequately, so the question now is how this court is going to make it work," Ms. Bamieh said.
Kosovo poses particular problems for witnesses because "everybody knows everyone," said another EU official familiar with the EU-led investigation.
While Mr. Thaci said that witness protection "will be for the court to solve," he promised that his government would do everything "to help the credibility of this process."
Although the Kosovo parliament voted in favor of the new court, the decision has been subject to a constitutional challenge by the main opposition party.
Mr. Thaci—who served as Kosovo's inaugural prime minister before moving to the foreign ministry in December—said he expects the challenge to be resolved in September, while conceding that establishing a special court remains contentious.
"We did have a lot of work to convince [members of parliament] to vote in favor and I had to do that with MPs of my own party, while the entire opposition was against," he said. "It was a very sensitive issue, but it had a good ending."
Negotiations are under way to base part of the court in the Netherlands. Mr. Thaci said he hoped that would be resolved "in the coming days or weeks."