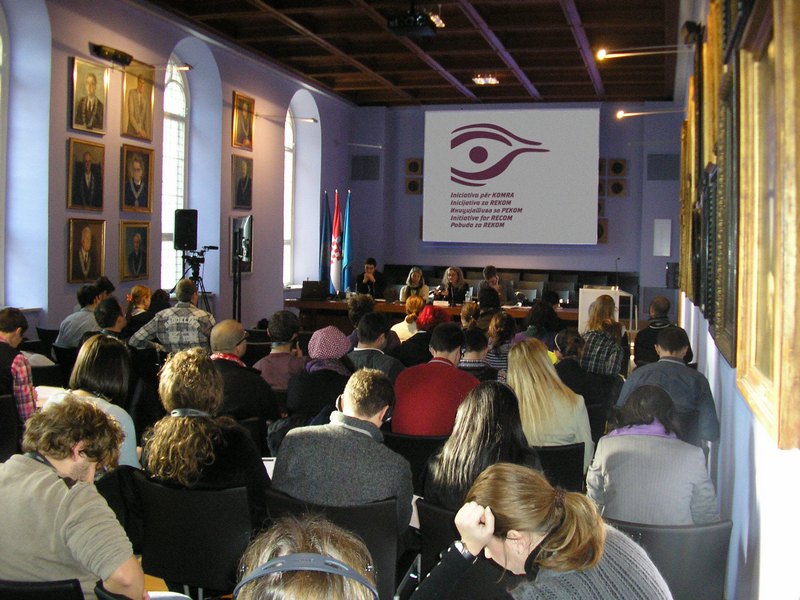 Regional Consultation on the Initiative for RECOM with University Students and Young Scientists

On December 17, 2010, on behalf of the Coalition for the Creation of a Regional Commission Tasked with Establishing the Facts about All Victims of War Crimes and Other Serious Human Rights Violations.
Committed on the Territory of the Former Yugoslavia in the period from 1991-2001 (RECOM), Youth Initiative for Human Rights, Croatia, and Legalis, Croatia, organized a regional consultation on the Draft RECOM Statute with university students and young law, politics, sociology, and history scientists.
The consultation was attended by over 50 young people from Bosnia and Herzegovina, Montenegro, Croatai, Kosovo, Macedonia, Slovenia, and Serbia. The gathering was held in the auditorium of the Rectory Building of the University of Zagreb.
Introductory speeches were given by: Marijana Toma (Working Group for the Draft RECOM Statute), Vesna Teršelič (Director of Documenta – Center, for Dealing with the Past, Zagreb), Mario Mažić and Ivan Novosel  (Youth Initiative for Human Rights, Croatia) .
Participants of the gathering expressed their unanimous support for the Initiative for RECOM as a very important and necessary mechanism aimed at establishing the facts about war crimes and other serious human rights violations committed during recent wars on the territory of the former Yugoslavia.
The participants mostly talked about the goals and assigments of RECOM and about how RECOM members should be elected.
It was emphasized that RECOM was important for the creation of a climate throughout former Yugoslavia which will prevent such massive human rights violations from happening again.
"It is very interesting to see young people seriously thinking about establishing the facts and unclosing the truth about the fate of the missing, hear them say that they can still feel a lot of the problems stemming from recent armed conflicts, and how they are ready to do give their own contribution to help the societies in the region face the facts from concerning the recent war in order to be able to heal war traumas, restore normal relations between the societies of the former Yugoslavia, and continue the democratization process", said Vesna Teršelič after the consultation.
Marijana Toma stressed that the participants of the consultation made very important and precise comments with respect to the Draft RECOM Statute thus giving their constructive contribution to the regional debate on the Initiative for RECOM.