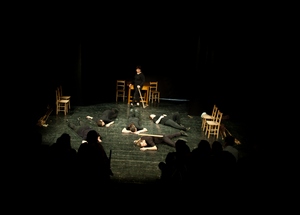 "Family of clear creeks" theatre and Initiative for RECOM

"Family of clear creeks" theatre, Serbia
Analogies
Director: Božidar Mandić
Cast: Dragana Jovanović, Uroš Vukša, Predrag Mitrović, Nina Plavšić and Božidar Mandić.
After being staged in Slovenia, the neo-avant-garde theatrical play "Analogies" by the Clear Brooks Family Theatre was shown to audiences in Skoplje, Macedonia on March 31, and April 1, 2011. By choosing this unusual play, the Initiative for RECOM tried to approach the audiences through the art, too.
The play mostly attracted younger audiences but it was also well received by elderly spectators. In addition to long applauses, the artists received appreciation for their work at a social event that followed the play. Theatre visitors talked to the artists about values promoted by the Clear Brook Family Theatrical Commune, one of the last authentic theatre groups in the former Yugoslavia region. They also discussed the essence of the Initiative for RECOM.
Božidar Mandić, who directed "Analogies" said that both the Clear Brooks Family Theatre from Rudnik and the Initiative for the Creation of a Regional Commission Tasked with Establishing the Facts about War Crimes and Other Serious Human Rights Violations Committed in the Period 1991-2001 on the Territory of the Former Yugoslavia (RECOM) shared the same goal – to fight for a brighter future and to prevent war atrocities from ever happening again.
Lazar Stojanović, representative of the Initiative for RECOM, explained the importance of an artistic approach to presenting the Initiative for RECOM: "In an attempt to reach out to the local public, we decided to talk about the Initiative for RECOM through an artistic expression. This is an indirect way of informing people about what we do and what our goals are. This is very different from our mass media approach".
Analogiesis a contemporary play about overcoming loneliness by becoming aware of "others". In the world of general alienation, one alienates from himself first. In order to understand one's self, one needs someone else. Analogies seek for the "same" in all people. Analogy is established when one recognizes oneself in the "one standing in front of him". The play is based on the principle that concept and acting emerge from inner processes within performers.
The idea is the main connection between the Analogies play and the Initiative for RECOM. The underlining of the play is a wish to recognize ourselves in the "other one", i.e. to recognize a human and humanity in every individual, which is also the fundamental principle of the Initiative for RECOM to restore victims' personalities, to individualize them, so that they are no longer mere numbers in historical interpretations and that people, especially the ones from opposed groups, experience compassion when they see theirselves in the "other one".